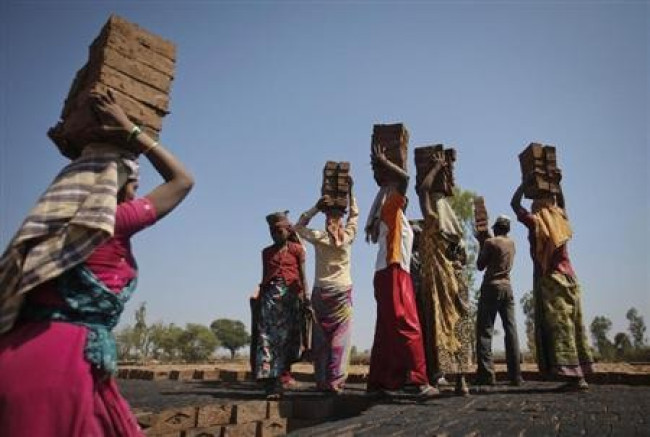 An estimated 35.8 million people are trapped in modern slavery, according to a report by Walk Free Foundation (WFF) which is campaigning for the end of slavery within a generation.
WFF has published its 2014 Global Slavery Index, which the organisation says has registered an increase in the estimated number of people enslaved around the world over the past year due to its improved data measurement techniques, and not due a surge in slavery.
Modern slavery is defined as when someone is forced to work through mental or physical threats, owned or controlled by an employer, is bought and sold as property, or physically constrained - affecting his/her freedom of movement.
India remains top of the list with an estimated 14.29 million enslaved people, followed by China (3.24 million), Pakistan (2.06 million), Uzbekistan (1.2 million, new to the top five), and Russia (1.05 million). These five countries accounted for 61% of those in slavery.
Taiwan, South Sudan, North Korea, Kosovo and Cyprus appeared in the index for the first time.
Andrew Forrest, the chairman and founder of WFF, said: "There is an assumption that slavery is an issue from a bygone era. Or that it only exists in countries ravaged by war and poverty.
"These findings show that modern slavery exists in every country. We are all responsible for the most appalling situations where modern slavery exists and the desperate misery it brings upon our fellow human beings.
"The first step in eradicating slavery is to measure it. And with that critical information, we must all come together - governments, businesses and civil society - to finally bring an end to the most severe form of exploitation."
The governments taking the most action to end modern slavery are: the Netherlands, Sweden, United States, Australia, Switzerland, Ireland, Norway, the United Kingdom, Georgia, and Austria.
Countries making the least response were North Korea, Iran, Syria, Eritrea, the Central African Republic, Libya, Equatorial Guinea, Uzbekistan, the Republic of the Congo, and Iraq.
Olly Buston, WFF's movement director, said: "There is still a chance that the modern slavery bill will make Britain's anti-slavery laws the best in the world. But the draft bill must be strengthened. Children and other victims of slavery need to be properly protected. And the bill must ensure that businesses take action to end slavery in their supply chains."
For example, in Brazil companies that profit from slave labour are named and shamed.