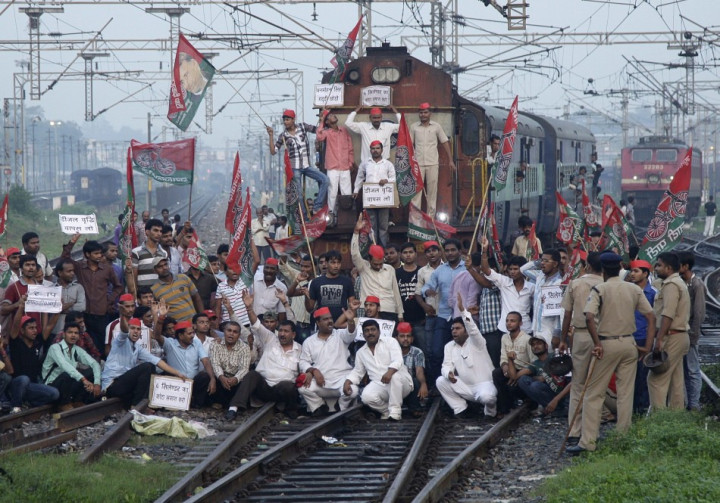 A nationwide strike called by opposition parties and trade unions to protest against reforms to foreign competition laws and a hike in diesel prices has crippled normal life in a number of states across India.
The strike is to protest against the ruling coalition's policy on Foreign Direct Investment (FDI), a rise in diesel prices and a reduction in subsidies for cooking gas.
Public transport on road and rail has been disrupted and factories, schools and offices are closed in many cities including Bangalore, the IT capital of India.
Management at Electronic City in Bangalore, home of many major IT companies, has deployed Central Security Force (CSF) staff across the site to fend off possible trouble.
Jammu, Uttar Pradesh and Bihar states were badly affected with railway lines blocked and shops and businesses shut. Thousands of protesters marched in central Delhi but other major cities, such as Mumbai and the administrative centre of New Delhi, barely registered the strike, said AP.
The Manmohan Singh-led coalition government has loosened restrictions on FDI in the retail sector in an effort to revive the slowing economy. But small farmers and traders said opening the retail sector to multinational companies would hit them hard.
The government has also announced a 14 percent rise in diesel prices and has restricted subsidised-price gas cylinders to six per consumer per year to rein in the rising fiscal deficit.
"[The reforms] help strengthen growth and generate employment in these difficult times," said Singh.
"If we do not increase the pace of the country's economic growth, take steps to encourage new investment in the economy, improve the management of government finances and work for the livelihood security of the common man and energy security of the country, then it most certainly affects our national security," said the prime minister in his address to the nation during the 65th Independence Day celebrations.
The new FDI policy allows multinationals such as Wal-mart and Tesco to take up to a 51 percent stake in multi-brand retailers in India. Other sectors such as aviation and broadcasting are also open for foreign direct investment.
"Multinational companies will destroy the economic and social fabric of the country and will adversely impact traders, transporters, farmers and other sections of the retail trade," Praveen Khandelwal, head of the Confederation of All India Traders, said.
Along with opposition parties, one of the ruling coalition's main allies, the regional Trinamool Congress party, is also participating in the strike. Its leader, Mamata Banerjee, has threatened to leave the coalition and push the government into a minority if the diesel price hike is not rolled back and other policies are not reconsidered.
The next general election in India is due in 2014.