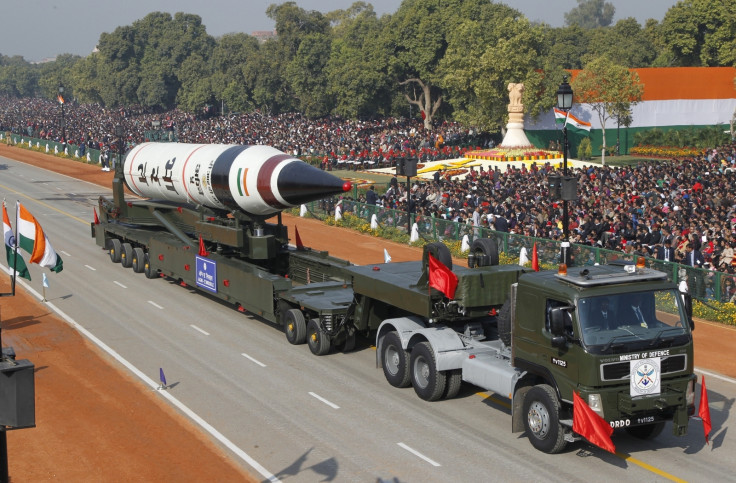 India has successfully test-fired an intercontinental ballistic missile (ICBM), the country's most advanced so far, said the defence ministry on Thursday (18 January). The nuclear-capable long-range projectile, capable of striking a target at 5,000km, was fired off from the country's eastern state of Odisha.
Launched from the Abdul Kalam Island off the Odisha coast, the Agni-5 — heralded as the "weapon of peace", is only a few steps away from being operational in the Indian defence forces as the latest test was successful in its final configuration.
The Indian defence ministry called the missile, which can cover northern-most parts of China, a "major boost" to the country's capabilities.
Once the weapon becomes operational, this will catapult India in a special league of countries — the US, UK, Russia, China and France — that possess missiles with a strike-range of more than 5,000km. The three-stage Agni-5, an indigenous production and India's most powerful missile as yet, can deliver a nuclear warhead of about 1.5 tonnes.
"We have successfully launched nuclear-capable ballistic missile Agni-V today," said Defence Minister Nirmala Sitharam following the test, which was widely said to be a successful one. But, there is no official word yet whether the missile satisfied all the parameters of the "user-trial" test.
The missile is 17-meter-long and has a two metre wide body. All four of its previous versions — Agni-1 (range of 700km), Agni-2 (2,000km), and the Agni-3 and Agni-4 (2,500-3,500km) — are currently in use in the Indian armed forces.
The canister-launch version of Agni-5 allows it to be fired from anywhere, given there is more mobility. The 50-tonne missile will need to undergo more trials and needs to be manufactured in adequate numbers before it is formally drafted into the Indian forces. The weapon, once fully operational, will be inducted into the tri-service Strategic Forces Command, the body which oversees the administration of strategic nuclear weapons arsenal.
Agni-5's most recent test was in late December 2016, the fifth test. The first test-launch was carried out in 2012.
China and Pakistan, who have a hawkish eye on India's weapons programme, were angered by India's previous tests. India is currently a non-signatory of the Comprehensive Nuclear-Test-Ban Treaty along with Pakistan.