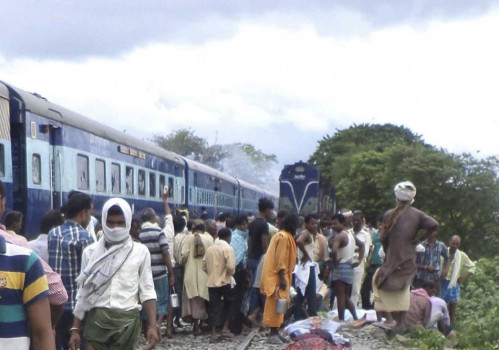 Nine people have been killed by a fire on a train in India early on Wednesday, as it travelled through the western state of Maharashtra.
After leaving Mumbai on a 48-hour journey to the Himalayan foothill town of Dehradun, fire broke out and spread through three coaches before it was noticed by a guard at a railway post.
Television channels broadcast images of flames leaping out of the windows and lapping at the metal sides of the train.
According to the railway minister Kotla Surya, five of the victims suffocated and four were burned to death.
Railway official Shailendra Kumar said: "We made the train stop immediately." With a lack of road access for firefighters, "passengers and train staff used fire extinguishers on the train to douse the fire, but it did not subside."
Firefighters eventually put out the blaze at a stop further along the track at the town of Gholvad in Maharashtra state.
The blackened and charred cars were unhooked from the rest of the train so it could continue its journey north.
The railway ministry has promised about $8,000 in compensation to the families of the victims.
It is the latest tragedy to strike India's extensive railway network and authorities are trying to work out what caused the fire.
Less than two weeks ago, another train fire took 26 lives in the southern state of Andhra Pradesh. A carriage of the Nanded-Bangalore Express was engulfed by flames, thought to have been started by an electrical short circuit.
Accidents occur frequently on India's rail network, with 23 million passengers travelling daily on around 11,000 passenger trains. The majority of collisions and fires are due to human error and poor maintenance.
According to a 2013 safety review submitted to Parliament, fires were involved in around eight out of 100 accidents that killed 185 people in 2012.