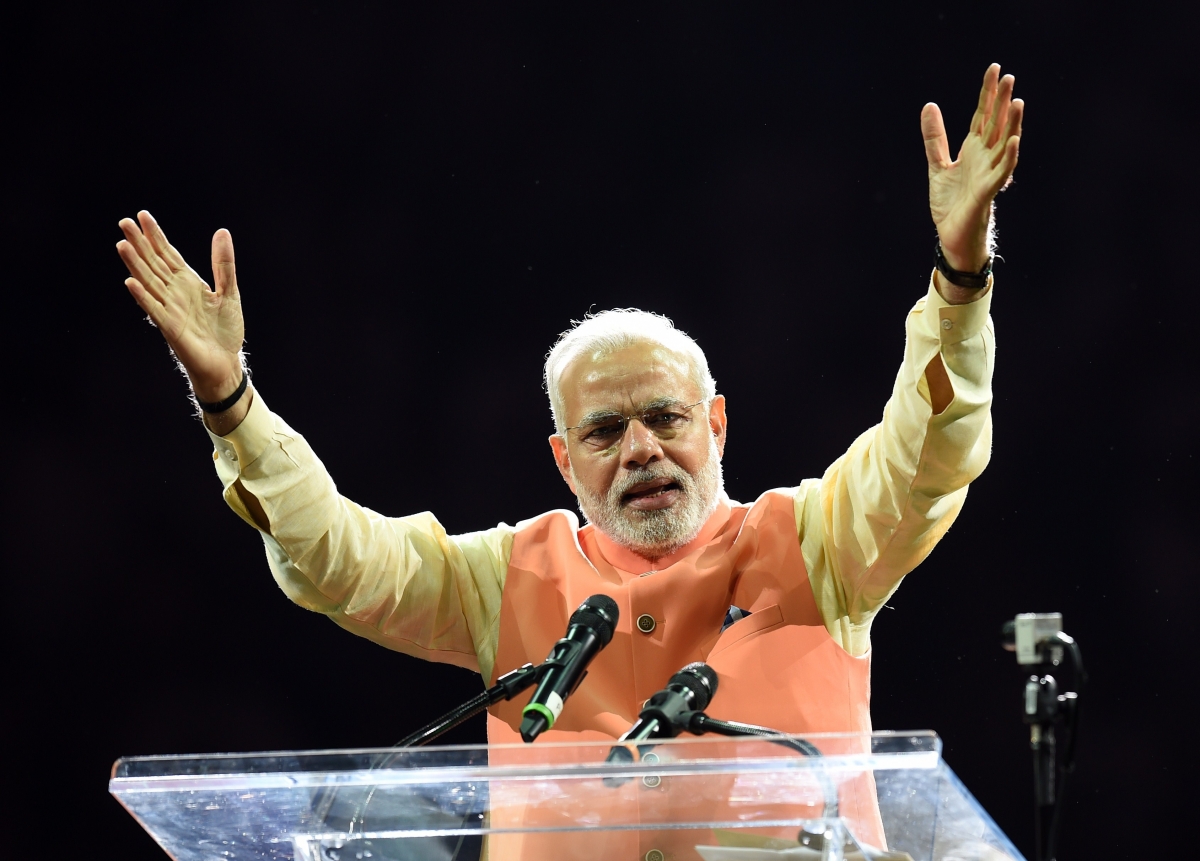 Indian Prime Minister Narendra Modi is to address the UK's Indian diaspora at Wembley Stadium during his visit in November, with 60,000 people now registered to attend the event. Four Labour MPs have announced that they will be donating their pay rises to contribute towards the cost of putting on a show for PM Modi at Wembley, which will see artists, dancers, and other performers coming together to honour the first Indian Prime Minister to visit the UK in ten years.
Keith Vaz (Leicester East), Virendra Sharma (Ealing and Southall), Steve Pound (Ealing North) and Seema Malhotra are the MPs to donate their pay rise to the cost of the cultural show, with more than 450 organisations from across the country coming together to support the event.
"To choose Wembley Stadium, which is where the Champions League final takes place and where only rock stars perform, shows how special Narendra Modi is to all of us," Keith Vaz MP told a gathering of UK Welcomes Modi partners. "Thanks to all of you, MPs have just had a pay rise and because I am so excited about this event I will donate my pay rise for November for this great function."
Honorary degrees and invitations to speak at Parliament
Vaz said that he had also spoken to Parliament's speaker about having Narendra Modi address the diaspora in Parliament, a proposal which the speaker had backed. They now await to hear whether the Prime Minister will be able to find the time to speak at Parliament during his trip in November. Vaz also announced that he had reached out to Leicester University and De Montfort University to be the first British universities to confer an honorary degree on Narendra Modi.
Steve Pound MP addressed the UK Welcomes Modi partners as well to speak about Prime Minister Modi's significance on a global scale. The MP for Ealing North insisted that this was "not just for the Indian diaspora" and that Narendra Modi is not just the Prime Minister of India, but that he has an important role to play as a "global statesman".
"This is about the future of the world. This is about a man who is playing for the highest stakes on the biggest stage," said Pound. "What a Diwali we are going to have – Wembley will be visible from outer space! There will be a great outpour of emotion that will reach to the great heavens and beyond and will never, ever be forgotten."
The biggest Diwali celebration the UK has seen
With public registrations now closed, organisers of the event confirmed that 12% of the attendees are over the age of 65 and 10% are below the age of 10. The UK Welcomes Modi group hope to create a "family atmosphere" in honour of the Prime Minister's visit coinciding with the Hindu festival of Diwali.
"A gathering of this kind has never been done in the UK before and it is only with such a dynamic leader like Prime Minister Modi that this could have allowed such an opportunity," said a spokesperson for UK Welcomes Modi. "It is by far the biggest reception any elected foreign leader has received in the UK and by far the largest Prime Minister Modi has received internationally."
The Indian High Commissioner to the UK, Ranjan Mathai, has joined in to welcome the Indian Prime Minister ahead of his visit to the UK. He points out that Modi is the first Prime Minister to have a majority in parliament for 30 years and praised his "dynamic vision" for India and its place in the world.
"This event will present the Indian community in this country in its true light to the audiences in this country as well as around the world", said High Commissioner Mathai. "It will boost the Indians living in the UK. It will also give [the diaspora] a sense of how best to connect with our Pradham Mantri's (Prime Minister) programmes for involvement of NRIs (non-residential Indian) and PIOs (person of Indian origin) in the development and advancement of our great motherland India."
A Modi Express service will launch on 9 October to provide convenient transport for people outside London who will be coming to Wembley on 13 November for the Prime Minister's welcome event. Many also took to Twitter to express their excitement over the event, while artists from various performing arts fields pleaded with organisers to consider them as an act for the show. Some have speculated that the famous Indian composer AR Rahman will perform on the day.