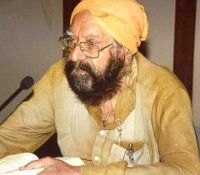 Renowned author, journalist and satirist, Khushwant Singh, also known as the "grand old man" of Indian literature, has died at the age of 99 in New Delhi, with his family at his bedside in his final moments.
"He was fine and passed away peacefully at home on Thursday," his daughter Mala Singh told reporters.
Singh, an anglophile, was known for his love of scotch, poetry and emphatic secular and agnostic views.
He was close to India's first political family, the Gandhis, especially Indira Gandhi's controversial son Sanjay Gandhi, who died in an air crash.
A born storyteller and raconteur with liberal political views and a penchant for outrageous humour, he went on to head several literary and news magazines including, the defunct Illustrated Weekly of India.
Singh was an ardent socialite and lived a full life, having been a lawyer-turned-diplomat-turned-writer. His autobiography, Truth, Love and a Little Malice, was published by Penguin in 2002.
Vikram Seth, a leading Indian novelist and poet, described him as a "fearless writer; a man of great discipline yet full of zest for life; a great Indian who embodied our national values of affection, tolerance and understanding; and a true friend".
Born in undivided India, Singh is best known for his classic, Train to Pakistan, which provides a moving account of the emotional price people had to pay for leaving their homes and migrating across borders after the India-Pakistan partition.
His other famous works include I Shall Not Hear the Nightingale and Delhi.
Active till quite recently, he wrote a novel, The Sunset Club, at the age of 95.
His death has sparked off a flurry of messages on social media sites.
Shahrukh Khan, Indian film actor and producer tweeted: "Oh no Khushwant Singh is no more. He made our lives so much richer by his literary contributions. "With Malice towards one and all" [weekly column series published in English Daily The Hindustan Times]RIP.
Celebrated Indian author, Amitav Ghosh, wrote: "Very sad to hear of the death of Khushwant Singh - great historian, novelist, editor, columnist, and a wonderfully kind, generous man. RIP."
Indian journalist Chitra Narayanan tweeted "RIP Khushwant Singh - bet he will be telling jokes in heaven."