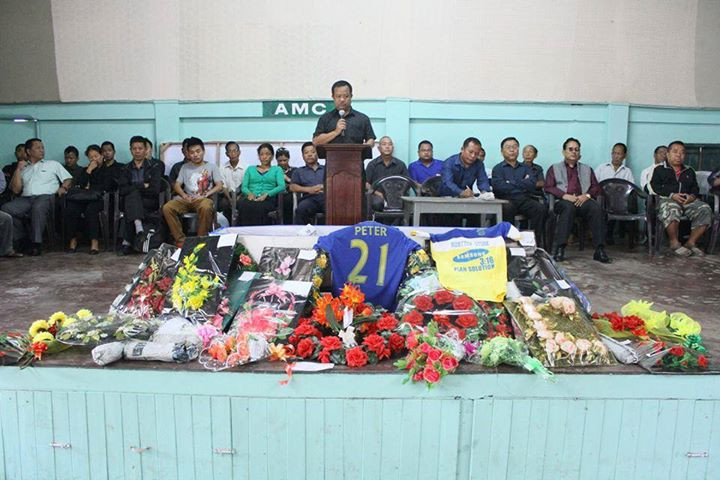 A young footballer from north-eastern India has died after he sustained a spinal injury while celebrating his goal in a local match.
Peter Biaksangzuala, 23, who plays for Mizoram Premier League (MPL) side Bethlehem Vengthlang FC, was injured on Tuesday, 14 October.
The midfielder scored the equaliser for his team in the 62nd minute of the match against Chanmari West FC. After scoring the goal, Biaksangzuala did a series of somersaults but landed awkwardly on the ground and injured himself.
He was shifted to the local hospital and then moved to the Intensive Care United after initial scans confirmed he had damaged his spinal cord.
He died on Sunday.
"This is indeed very shocking for all of us," Mizoram Football Association secretary Lalnghinglova Hmar told Goal.com.
Bethlehem Vengthlang have decided to retire Biaksangzuala's jersey number 21.
A statement on MPL's Facebook page read: "Bethlehem Vengthlang FC midfielder Peter Biaksangzuala lost his fight for survival after he suffered a fatal injury while celebrating his goal.
"It has been a sad day for Mizoram football and the demise of the footballer shook his teammates, footballers and fans alike all over Mizoram. Peter's club Bethlehem Vengthlang FC will retire his jersey no. 21.
"On Sunday at around 7:00am in Aizawl Civil Hospital, Peter was pronounced dead five days after that fateful night while playing for his team in the Mizoram Premier League," it added.
Bethlehem Vengthlang coach Danny Lalduhawma said: "Peter was a lad with good manner who always maintained his discipline on and off the pitch. I don't think there are many like him."