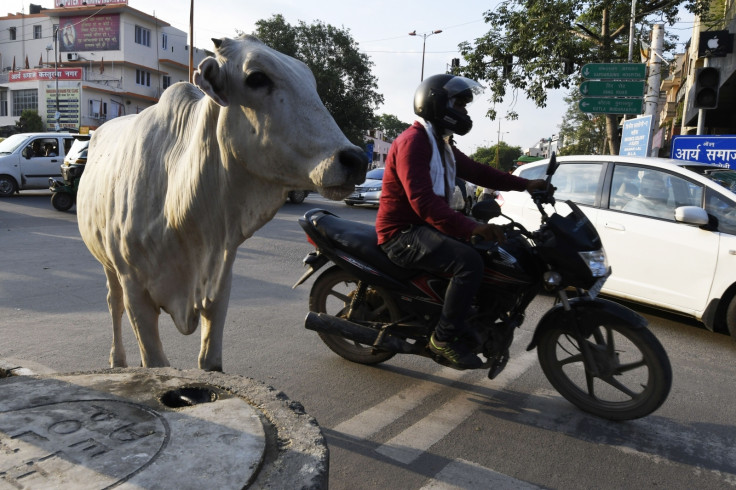 Indian prisoners will be treated with "cow therapy" in a radical rehabilitation plan that involves rearing the cattle, considered sacred by Hindus.
The Cow Welfare Commission in Haryana state, northern India, said it will spend $1.5m (£1.1m) to buy 600 cows and house them in barns in six prisons across the region.
Cows are free to wonder through towns and villages, and steps to protect them from harm have stepped up under the ruling Hindu nationalist Bharatiya Janata Party (BJP), led by Prime Minister Narendra Modi.
Haryana Cow Welfare Commission chairman Bhani Ram Mangla told AFP that rearing the cattle would provide inmates with "innumerous benefits".
He said: "Cows are part of the Hindu religion, and they have magical powers on those who care for her."
The commission chairman added that fresh milk from the beasts would "cleanse" inmates, while cow urine could be sold at market. Some Hindus believe that drinking cow urine alienates a variety of ailments including arthritis, asthma, cancer and diabetes.
Mangla added that cow dung could be used in biomass systems to provide prisons with energy.
Millions of Hindus worship cows across the world's biggest democracy. The animal provides life-sustaining milk, and is seen as a symbol of the divine bounty of earth.
The slaughter of cows is banned and the consumption of beef restricted in most Indian states.
Hindu nationalists have pushed for tough penalties for those accused of killing these animals, with some states imposing life sentences for slaughtering cows or consuming beef.
However, millions of people in the minority Muslim and lower-caste Hindu communities depend on work in the meat and leather industries. Muslims make up 14% of India's 1.3 billion people.
Last June, Prime Minister Narendra Modi was forced to say that murder in the name of cow protection is "not acceptable".
It came hours after a Muslim man was reportedly killed by a 100-strong mob who accused him of transporting beef in his car in the eastern state of Jharkhand.
The BJP leader said killing people in order to protect cows was "not in keeping with the principles of India's founding father, Mahatma Gandhi".
Modi added: "As a society, there is no place for violence. No person has the right to take the law in his or her own hands".