A reputed Indian university has conferred an honorary doctorate on Turkish President Recep Tayyip Erdogan for his "contribution to strengthening international cooperation and peace". The New Delhi-based Jamia Millia Islamia University's decision has left students and staff divided as Erdogan is facing human rights abuse allegations.
Erdogan has been accused of amassing enormous powers through the recently held referendum. Ever since the botched coup attempt in July 2016, Erdogan's government has clamped down on his critics, academics, army, judiciary and other state establishments. More than 120,000 individuals have been removed from office and over 40,000 arrested since the overthrow attempt.
The Turkish leader was on a two-day visit to India. He was given the Degree of Doctor of Letters (Honoris Causa) by the university on Monday, 1 May.
Amid high security at the campus due to the presence of Erdogan, the university conferred the degree hailing its special relations with Turkey. Erdogan heaped praise on India calling for a permanent seat for the country at the UN Security Council.
"Only five permanent members of the council are deciding the fate of the entire world which is not fair," Erdogan said, adding that India, with 1.3 billion people, should be given a platform to voice the opinion of its people.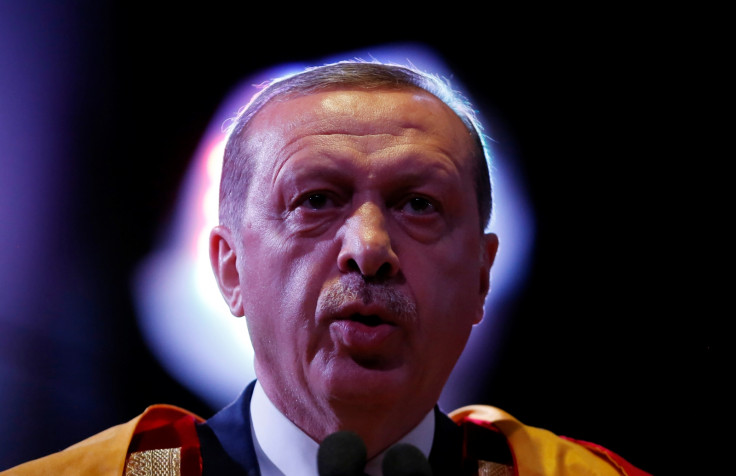 Erdogan has received as many as 40 honorary doctorates since 2004 from universities across the world. Universities usually confer such honorary degrees on professionals and experts who excel in their fields.
The choice of Erdogan has drawn criticism from sections within Jamia Millia Islamia University. They have cited the widespread crackdown in Turkey including against academics.
An online petition has been launched by an alumnus of the university urging the administration to reverse its decision. It has now been signed by more than 500 people comprising students, professors and alumni.
"It comes as a terrible surprise and shock to learn that Jamia Millia Islamia, the university where I learned how to think critically, is now honouring a politician like him. Today, Jamia administration's actions reflect a tragic transformation, short of the dignity that it once had as a proud and independent institution," the petition said.