More than 55 million Turks are eligible to vote in a referendum which could potentially give sweeping powers to President Recep Tayyip Erdogan. Polling began on Sunday, 16 April, and the vote will decide if Turkey wants to switch to an executive presidency from the existing parliamentary system of government.
The referendum, taking place after weeks of an intense and divisive campaign, could radically alter Turkey's political system giving overarching powers to Erdogan. Rewriting the military-era constitution has been a longstanding dream of Erdogan, who has been accused of taking Turkey towards a more authoritarian rule.
Over 167,000 polling stations have been set up across the country. The results are expected to emerge shortly after the voting closes. Turkish citizens who stay abroad have already cast their votes in diplomatic missions. Thousands of prisoners across the country are also eligible to vote from inside state-run facilities.
Voters are being asked "yes" or "no" on 18 constitutional amendments. If approved, the office of the prime minister and cabinet would be abolished while the president will acquire vastly enhanced powers in the executive. The president will be able to issue decrees, nominate cabinet members and control judicial appointments. It will also allow Erdogan to continue in office till 2029.
Opinion polls predict a knife-edge referendum with results expected to swing either way. As Islamic State (Isis) issued threats against the voting, security measures have been boosted across Turkey, a transcontinental nation sandwiched between Asia and Europe.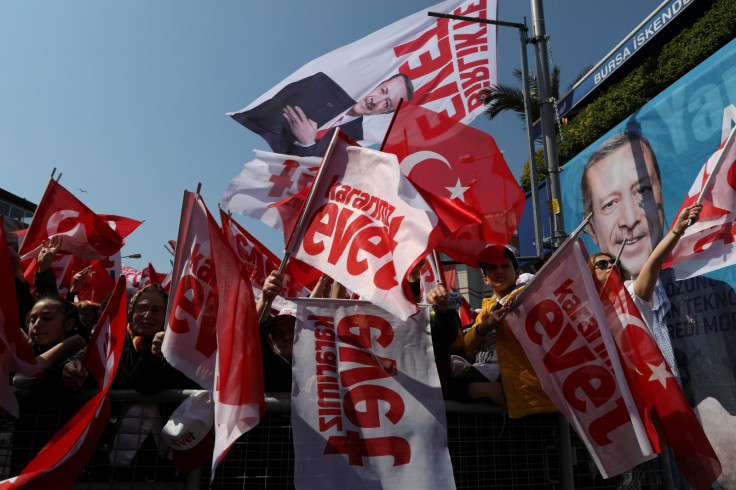 Erdogan's ruling Justice and Development Party (AKP) has argued that such overreaching powers are necessary in order to straighten things out in Turkey in the wake of increasing security challenges. However, critics have repeatedly condemned the move saying a successful referendum outcome would vest all the powers with the president with no checks and balances.
The constitutional changes came into the spotlight after Erdogan became the president in 2014 and the botched coup attempt in July 2016 only made him accelerate moves to achieve his key political goal.