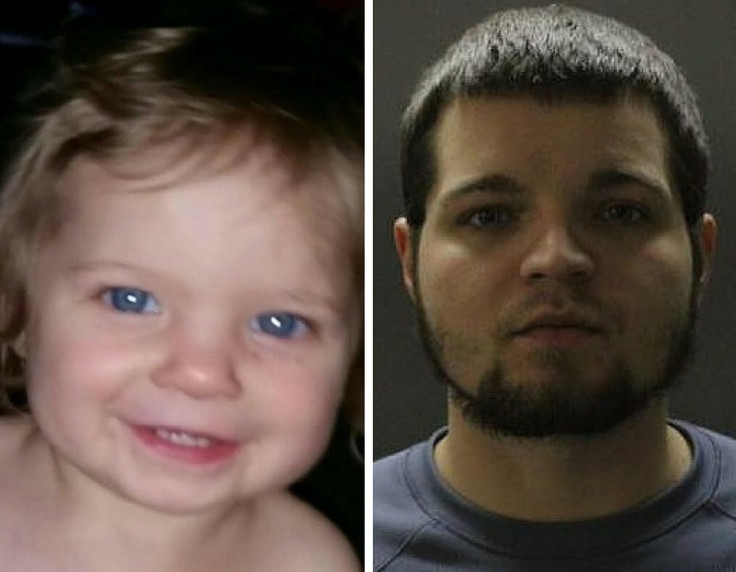 A man shared whiskey with the uncle of a one-year-old girl and waited for her family to fall asleep before kidnapping, raping and murdering the child before discarding her body near a river, prosecutors claim. Kyle Parker, 22, is charged with murder, rape and kidnap among other charges following the discovery of Shaylyn Ammerman's body.
The toddler went missing from her home in White River in Gosport, Indiana, in the early hours of 23 March. Court documents say that Parker was drinking with her uncle, Adam Ammerman, after her father and his partner had gone to sleep.
Between 3am and 4am, Adam Ammerman woke up as the front door shut and saw Parker leaving the house with something in his hands. Ammerman told Owen County Police he thought he saw a foot dangling as Parker exited.
The court documents also revealed that Parker's friends said he arrived at their home at 3.40am and immediately began washing his clothes once inside. They added that Parker is attracted to girls aged between 12 and 14.
Parker initially denied knowing anything about Shaylyn's disappearance, but directed police towards the area in which her body was found, around 40 miles from Indianapolis. The burned remains were said to have contained her clothes and other key evidence.
An autopsy found the toddler suffered "severe sexual trauma" while she was still alive and had died from asphyxiation. Parker, the sole suspect in the case, will remain in jail without bond and entered a not guilty plea during a hearing on 28 March.
Don VanDerMoere, an Owen County prosecutor, described Parker's alleged crimes as "monstrous" and "atrocious". He said: "This is the first time in my tenure that I've seen grown law enforcement officers just wince in pain. It's just horrible."
Parker's stepfather visited him in jail and according to the affidavit, Parker confessed to him that he acted alone and used bleach to try and destroy DNA evidence. The Indiana Star quoted his stepfather as saying: "Kyle kept saying the night was a haze and his memory was foggy on what happened."