India's right-wing Hindu Sena throws Donald Trump a birthday party in New Delhi
A right-wing group in India, the Hindu Sena, organised a birthday party for Donald Trump in New Delhi on 14 June. The birthday bash took place at the capital's iconic Jantar Mantar monument and included a colourful birthday cake, as well as posters of the US presidential hopeful.
According to news agency ANI, the Hindu Sena said that only Trump would be able to save the world from the "epidemic" of Islamic terror. The group issued an open invitation for the celebration, urging people to join in celebrating the 70th birthday of the "savior of humanity".
Hindu Sena's national president Vishnu Gupta said: "We are celebrating his special day, despite the recent tragedy in Orlando because he is taking a stand against Islamic terror and that is very important to India, as we have been plagued from this kind of terrorism. I pray that he wins with a heavy majority and fulfils his promise of wiping Islamic terror off the face of the earth."
This isn't the first time that the right-wing group has openly expressed its support and admiration for Trump. Last month the Hindu Sena organised a "havan" (prayer ritual) to ask the Hindu gods for Trump's success in the US presidential elections.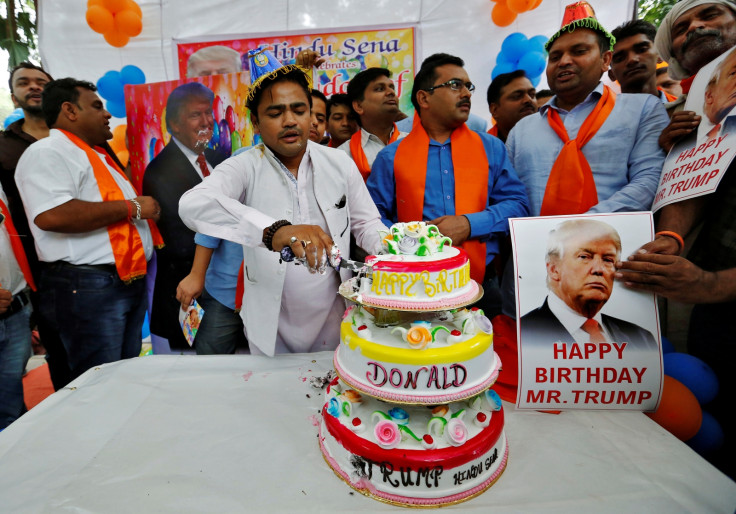 At the time, members of the Hindu Sena were filmed conducting the ritual while surrounded by statues of Hindu gods, as well as several images of Trump. The group lit a ritualistic fire and chanted Sanskrit prayers for Trump's victory, as well as threw offerings into the fire, such as seeds, grass and ghee (condensed butter).
Despite a number of Indians mocking the Hindu Sena for its Trump prayer ritual, the group remained undeterred. Gupta said: "Many seculars crying after our support for Trump, I don't care for them, Trump is against Islamic terror. That's the reason I love Trump."
The group's name began trending on Twitter once again as images emerged of the Trump birthday celebrations.
© Copyright IBTimes 2023. All rights reserved.