India's Security Concerns vs. Endangered Bird: Hornbill May Lose Out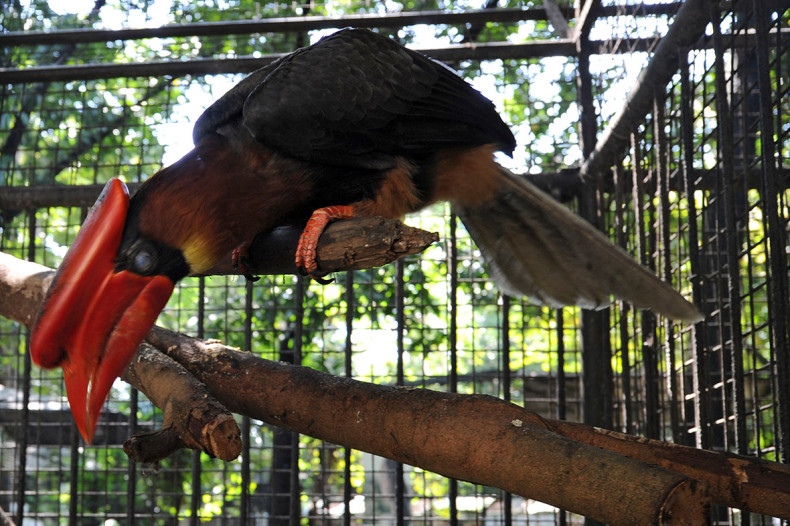 The first victim of the new Indian government's focus on security could be the Narcondam hornbill, an endangered bird found only on Narcondam Island, situated 1,287 kilometers east of the Indian peninsula, near Myanmar.
India plans to build a radar station on the island, alleging that China has set up a "listening post" aimed at intercepting Indian communications on the Myanmar-owned Coco Island, about 122 kilometers away.
The radar equipment needs just 1.6 acres of land on top of a hill, which wouldn't do much harm to the bird, but what will be damaging is the construction of a road up the hill through the birds' breeding areas, along with residences for technicians and supervisors, a helipad, and a large generator to power it all.
The station had been rejected by the previous government in 2012, largely over concerns about the hornbill.
The Narcondam hornbill was first described in 1873 by AO Hume, an amateur ornithologist. About the size of a little egret, the birds have velvet-black bodies and wings, with oversize yellow beaks and flouncy white tails.
The bird is known for its curious breeding habits. After mating, female hornbills climb into the hollows of old evergreen trees and imprison themselves with a wall of their own droppings for the duration of egg-laying and chick rearing. The males pass food through a slit in the wall during this time.
There are just 350 to 400 Narcondam hornbills left, though their numbers have been relatively stable in recent years. The fruit-loving birds are called "feathered foresters" because they consume, defecate, and spread seeds from at least nine species of evergreen trees and climbing plants on the island, some of which are found only on Narcondam and are little studied.
The environment ministry has said it intends to expedite forest clearances for 5,955 kilometers of roads and a further 12,000 acres of land for the establishment of a new army base in the north-eastern state of Arunachal Pradesh, the site of a border dispute with China—and a hotspot for biodiversity that is home to nine wildlife sanctuaries.
Whether it is for security reasons or development prerogatives, the ministry of environment has set quite a few alarm bells ringing.
On 9 May 2014, the Indian Ministry of Environment and Forests published on its website a new Detailed Project Report for implementation of "e-filing of forest clearance applications." While the stated objective of this system is to bring efficiency into the system, experts believe that the title says a lot about the ministry's approach to forest diversion as 'forest clearance'.
The hornbill clearly will be the least of its concerns.