The body of an American tourist, Sheila von Wiese Mack, has been discovered in a suitcase in a five-star hotel in Bali, Indonesia.
Her body was found on Tuesday stuffed into a suitcase in the boot of a taxi parked in front of the St. Regis hotel in the Nusa Dua resort area.
A doctor confirmed the 62-year-old victim was half naked with visible wounds to her head and appeared to have put up a struggle.
She had been staying in the hotel with her daughter Heather, 19, and her daughter's boyfriend, Tommy Schaefer, 21, who have both been arrested in conjunction with the death of Mack, according to local police chief Djoko Hari Utomo.
Mack and her daughter stayed in the hotel together for several days before the boyfriend joined them on Monday, Utomo added.
CCTV footage recorded Mack arguing with Schaefer in the reception of the hotel on the same night, The Australian reported.
When the couple checked out the next day, they sent several suitcases down to a taxi, allegedly including the one that contained the victim.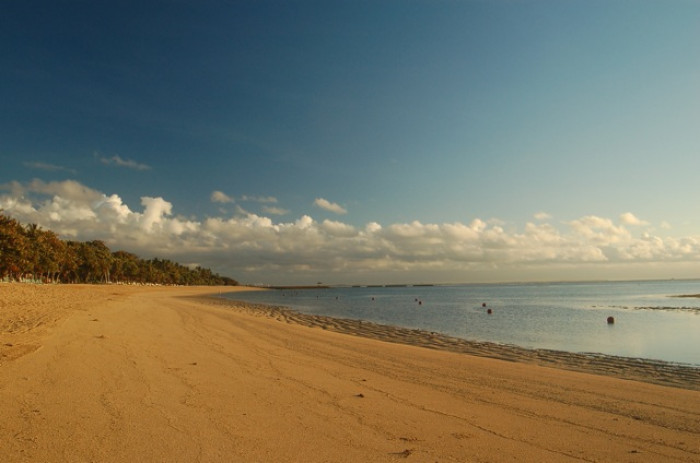 The body was discovered when the couple failed to show up at the waiting taxi. The couple were reportedly seen on CCTV leaving the hotel via a stretch of beach at the back of the property, instead of the main entrance.
Police eventually found the pair sleeping at a hotel in the tourist area of Legian, north of Nusa Dua, on Wednesday morning.
"This is murder, and we will decide from our investigation whether it is premeditated or spontaneous," said Utomo.
The victim's body was sent to the main hospital in the Balinese capital Denpasar, where an autopsy confirmed Mack had suffered several wounds to the head which appeared to have been inflicted with "blunt tools".
"Looking at the wounds, the victim must have fought back," said Doctor Ida Bagus Alit.
The US embassy in Jakarta released a statement that it was "aware of the death of an American citizen that took place in Bali and we understand that two individuals have been arrested in connection with the case".
St. Regis is an award-winning luxury resort in the centre of the "Garden of Bali" and according to the website, rooms start at around £280 per night.
The hotel said that it was aware of the "terrible tragedy" and was assisting authorities in their investigation.