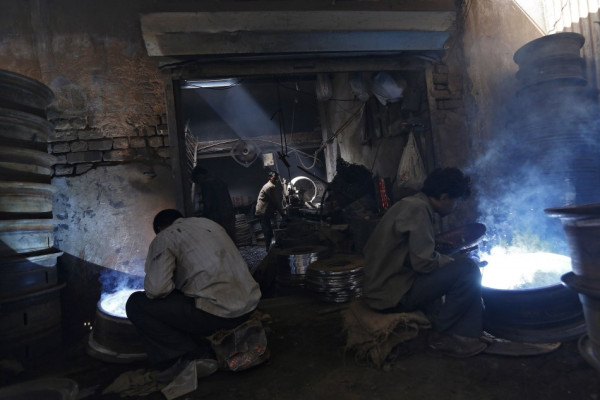 India's factory output growth in March gathered speed at a time when the government battles allegations of misconduct, corruption and policy paralysis.
Data released by the Central Statistical Office shows that output in factories, utilities and mines grew 2.5% in March compared to the corresponding period a year ago. February's figures showed a 0.6% growth while the increase in January was put at 2.4%.
Annual factory output in Asia's third largest economy grew 1% during the financial year ending 31 March, 2013.
The benchmark BSE Sensex gained about 28 points in early trade on fresh buying by funds and retailers, ahead of the release of factory output data, the Press Trust of India reported. The Sensex ended 0.72% higher or 143.58 points to 20,082.62.
Manufacturing, which constitutes about 76% of India's factory output, grew 3.2% in March, against the corresponding period a year ago. Capital goods production, an indicator of investments made in the economy, jumped 6.9% in March.
Separately, wholesale prices, a key measure of inflation, cooled to 5.96% in March, after they accelerated to 6.84% in February. March's inflation rate is the lowest since November 2011.
Industry group, the Federation of Indian Chambers of Commerce and Industry (FICCI) said the 3.2% growth in manufacturing "can hardly be looked as a revival in manufacturing".
"Supply side bottlenecks due to inadequate infrastructure, inadequacy of fuel supply linkages and delays in project clearances of large manufacturing and infrastructure projects should be the priority areas to be addressed through policy. Besides, interest rates need to be further moderated to stimulate investment activity," FICCI president Naina Lal Kidwai said.
The Confederation of Indian Industry (CII) hoped for an accommodative monetary policy regime to spur investment. It called for a further cut in the central bank's benchmark lending rate and a cut in the cash reserve ratio, "before the next review of monetary policy, to ensure effective transmission of the monetary policy".
The central bank recently cut its benchmark interest rates for the third time this year amid pressures for monetary easing to spur economic growth, despite rising inflation. As widely expected by analysts, the Reserve Bank of India (RBI) lowered its benchmark lending rate, known as the repo rate, by 25 basis points to 7.25%.
The central bank was under pressure to cut interest rates with the economy growing just 4.5% in the October-December quarter of 2012, the lowest in a decade.