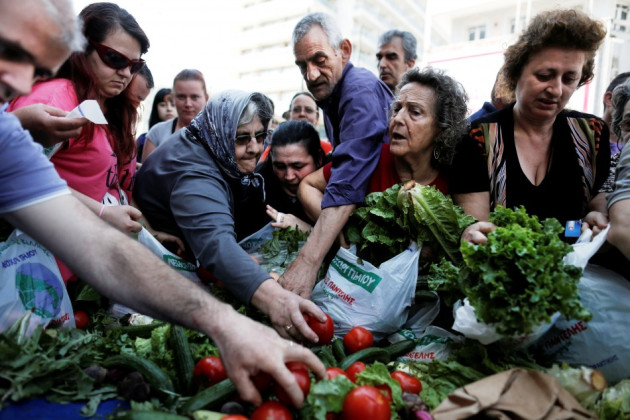 Rising prices of fruit, vegetables and electricity pushed up inflation across the recession-hit eurozone in May at a time when a record number of people remain unemployed across the 17-nation bloc.
The eurozone inflation rate rose to 1.4% annually in May 2013, up from 1.2% in April when it dropped to a three-year low, Eurostat confirmed. But inflation remains well under the European Central Bank's (ECB) target of close to, but below 2%.
The largest upward impact on the bloc's annual inflation came from higher fruit and vegetables prices that rose 0.11 percentage points each and from higher electricity costs, which rose 0.09 percentage points, the EU's central statistics office said.
However, fuels for transport, telecommunications and medical and paramedical services had the biggest downward impact.
Consumer prices rose by 0.1% month-on-month in May.
Inflation in Germany, the eurozone's leading economy, shot up to 1.6% annually in May from 1.1 % in April. France reported a marginal increase at 0.9% on the year, while annual inflation in Italy remained unchanged at 1.3% in May.
The eurozone officially entered the longest ever recession in the first quarter of 2013, since records began in 1995, with the economy contracting for six consecutive quarters. According to the EU's statistics office, the 17-member economy shrank 0.2% in the January to March period this year after a fall in output in France, Italy, Spain, the Netherlands and Finland.
Record high unemployment surfaced across the eurozone in April 2013, when 95,000 workers lost their jobs, bringing the total to 19.4 million jobless people. Eurostat data showed that the number of persons employed across the eurozone decreased by 0.5% during the January-March quarter.
Eurozone economies are expected to return to growth by the second half of 2013, given that "economic activities are set to stabilise by the first half of the year", EU Economic Affairs Commissioner Olli Rehn said on 11 June.