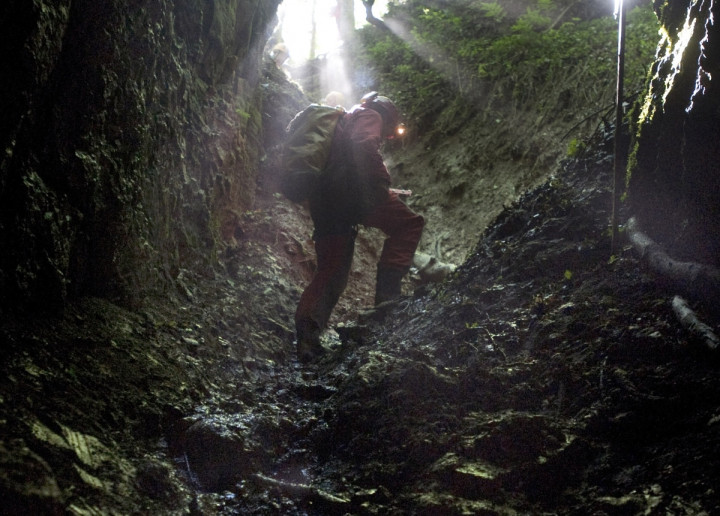 Rescue teams who made contact with an injured German speleologist stuck in a cave 1,000 meters (3,300 feet) under the surface of earth said the man is in better conditions than previously thought.
The 52-year-old explorer, named by German media as Johann Westhauser, is responsive and able to stand up for short periods of time, something that could ease the difficult rescue effort, emergency services have said.
Westhauser was hit by falling rocks over the weekend, as he was exploring with two companions the Riesending, Germany's deepest cave system near the city of Berchtesgaden in the Bavarian Alps.
He is suffering from injuries to the head and torso, which were initially described as severe and prevented him from climbing back to the entrance of the 19.2 km underground labyrinth of vertical shafts and bottlenecks.
The alarm was raised by one of his companions who made a 12-hour ascent back to the surface to alert authorities, while the other remained with Westhauser.
Some 200 emergency personnel arrived at the scene and were trying to work out how to bring the 52-year-old back up to the surface.
Police initially said Westhauser could be moved only as he lay down, which represented a challenge for the international team of rescuers.
The cave is particularly difficult to penetrate and features spots where only a slim person can squeeze through, rescuers said.
Explorers have also had to contend with water and chilling temperatures that can drop to around 3 degrees Celsius.
Working in small teams of up to four people, rescuers have laid a telephone line several hundred metres deep and set up camps inside the cave system.
A team managed to reach the site of the incident, which is around 6,000 meters (3.75 miles) from the cave entrance and make contact with Westhauser. Another four-man team of Swiss rescue experts is on its way.
Emergency services plan to bring the wounded speleologist up in stages, stopping at five stations, known as bivouacs, during the ascent. The operation is expected to last three to five days.
Westhauser, described as a skilled cave expert, was part of the team of researchers who first explored the Riesending cave system in 2002. Its entrance had only been discovered in 1995.