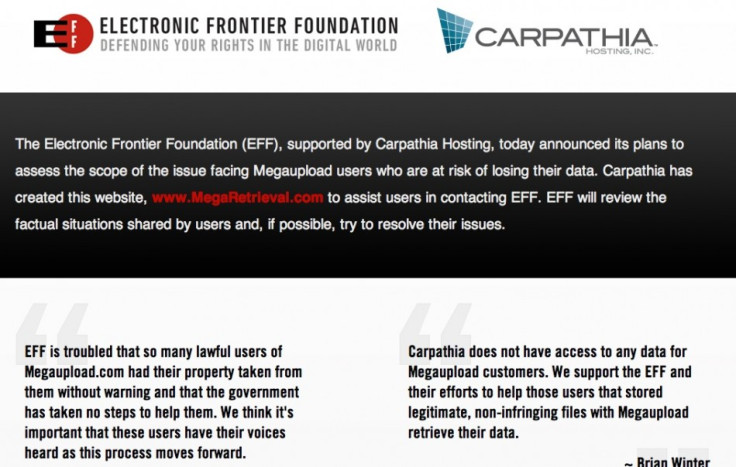 A website has been setup to offer legal advice for any MegaUpload customers who are worried about losing their data, which is due to be deleted in two weeks' time.
Created by data storage company Carpathia and the Electronic Frontier Foundation (EFF), the site - called MegaRetrieval.com - hopes to return data to innocent customers of the recently shut down MegaUpload file sharing site.
The EFF said: "When the United States Government shut down access to Megaupload, a multitude of innocent users who stored legitimate, non-infringing files on the cloud-storage service were left with no means to access their data."
MegaUpload was shut down by the FBI in late January as it is claimed that the site provides free access to copyrighted material, such as films and music; site owner Kim Dotcom and three other company executives were arrested in New Zealand.
Carpathia - which provides hosting for data on MegaUpload - said: "We have no immediate plans to reprovision some or all of the Megaupload server. This means that there is no imminent data loss for Megaupload customers. If this situation changes, we will post a notice at least seven days in advance of reprovisioning any Megaupload servers at www.Carpathia.com and www.Megaretrieval.com.
The file-sharing website was made unavailable by the Federal Bureau of Investigation on 29 January as Dotcom and several other workers at the site were arrested on suspicion of
racketeering, copyright infringement, money laundering and criminal copyright infringement.
Visitors wishing to access their data on MegaUpload are currently greeted with a message stating that the FBI has seized the website after an order issued by a US District Court.
It was previously claimed that all data would be deleted by 2 February, but it was announced by MegaUpload lawyer Ira Rothken on 31 January that users' data would be held for a further two weeks, shifting the deadline to at least 14 February.