Hip-hop duo Insane Clown Posse are suing the FBI after it ruled that their dedicated fanbase was made up of gang members.
The fans of Insane Clown Posse, known as Juggalos, wear clown make-up and sport Juggalo tattoos and clothing in homage to bandmates Shaggy 2 Dope and Violent J, also known as Joseph Utsler and Joseph Bruce respectively.
In 2011, the FBI claimed that Juggalos were a "loosely organised hybrid gang" who exhibit "gang-like behaviour and engage in criminal activity and violence".
A photo of a female Juggalo posing with a gun appears on the FBI website. The classification cited two incidents of two people believed to be "suspected Juggalo associates" involved in violent crime.
The Michigan-based rappers have filed a suit againt the FBI, claiming that classifying fans as gangsters was "unwarranted and unlawful". Insane clown Posse said that fans had been harassed by police and discriminated against since the FBI listing.
"Juggalos are a family of people who love and help one another, enjoy one another's company, and bond over the music and a philosophy of life," the lawsuit said. "Organised crime is by no means part of the Juggalo culture."
"Among the supporters of almost any group - whether it be a band, sports team, university, political organisation or religion - there will be some people who violate the law. Inevitably, some will do so while sporting the group's logos or symbols," the filing added.
"However, it is wrong to designate the entire group of supporters as a criminal gang based on the acts of a few. Unfortunately, that is exactly what happened here."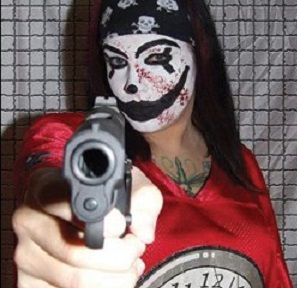 The Michigan branch of the American Civil Liberties Union and four of their fans are also involved in the suit.
One self-confessed Juggalo, Scott Gandy of North Carolina, claimed that he was forced to spend hundreds of dollars covering up his Juggalo tattoos after he was refused entry into the army for sporting "gang-related" body art.
Another fan, 20-year-old Brandon Bradley, claimed he had been stopped on numerous occasions by police in California because of his Juggalo clothing and tattoos. One truck driver said he was pulled over by police in Tennessee just because his truck was sporting a Juggalo symbol.
The US Justice Department has not responded to the lawsuit.
The band's infamously obsessive fanbase will feature in a documentary entitled Whoop Dreams, which focuses on the band's annual Gathering of the Juggalos music festival.