A controversial advertisement for lamb, depicting deities feasting on meat has sparked outrage among Indians in Australia. The Hindu community there has called for the "ignorant and insensitive" campaign to be banned after it features Lord Ganesha in it.
The elephant-headed god is one of the religion's most popular deities and is considered to be a vegetarian by Hindus.
The spring lamb commercial features religious figures, including Jesus, Buddha, Greek goddess Aphrodite, Scientology founder L Ron Hubbard, Zeus, Moses, a Jedi and others sitting around a lamb lunch.
At a modern spring barbecue, they all ultimately toast lamb, saying "the meat we can all eat".
According to the Meat and Livestock Australia, for which the campaign was made, the commercial was designed this way to show that that no matter what their background, religious beliefs or persuasion, everyone "can come together and unite over" lamb.
They said it was made to be purely playful and not offensive.
However, the Hindu Council of Australia called the advertisement a "crude and deplorable attempt by Meat and Livestock Australia to use images of Ganesh to promote lamb consumption".
President of the Council of Indian Australians Mohit Kumar said the timing of the campaign's launch particularly hurtful the community. It was released around the time Hindus across the world were celebrating Ganesh Chaturthi, the Sydney Morning Herald reported.
The festival, one of the biggest in India, is marked to celebrate the birth of the Lord Ganesh — the remover of obstacles.
Hindu cleric Rajan Zed, president of the US-based Universal Society of Hinduism, called on the campaign makers to issue an apology and withdraw the advertisement.
"Lord Ganesha was highly revered in Hinduism and he was meant to be worshipped in temples or home shrines and not to be used in selling lamb meat for mercantile greed. Moreover, linking Lord Ganesha with meat was very disrespectful and highly inappropriate," Zed said.
It is love, not lamb meat, that brings people together, he said.
However, the campaign avoided featuring Prophet Mohammed and shows him as being unable to attend the feast because of day-care issues. Muslims believe it is blasphemous to depict images of their prophet.
Anglicans are also reported to have been disappointed by the commercial, the Guardian cited Melbourne Anglican bishop Philip Huggins as saying.
The campaign put "Jesus Christ at the same table as L Ron Hubbard and trivialises one of Jesus's most beautiful miracles", Huggins noted.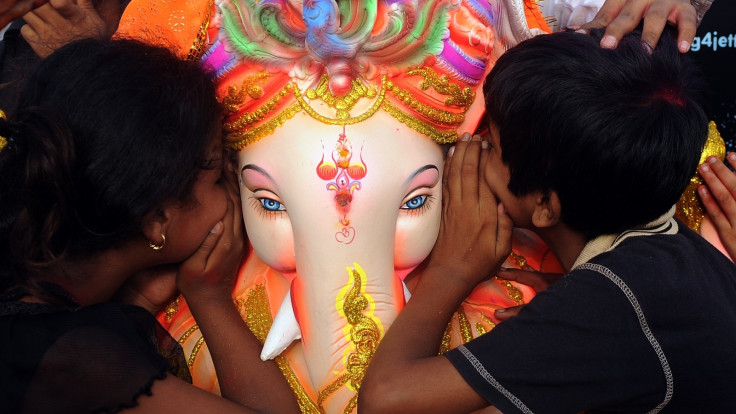 "The advertisement is cleverly disrespectful. It seems that for an ad to stand out there has to be some bizarre or shocking component. Otherwise the fear is it will not be noticed," he added.
Australia's Advertising Standards Bureau has announced it would look into the matter after it received about 30 complaints about the ad.
Most people who complained reportedly cited discrimination and vilification on the grounds of religion, according to SBS World News.