Indian Prime Minister Narendra Modi has lauded Myanmar's de facto head Aung San Suu Kyi for her leadership in the country's peace process amid Rohingya Muslims fleeing to Bangladesh following a spike in violence in the restive Rakhine state.
The latest round of fighting was triggered when a Rohingya militant group attacked Myanmar military outposts on 25 August, killing more than 100 people. It forced Myanmar's army to launch a crackdown against the minority community amid reports of Buddhist vigilantes burning Rohingya villages.
Modi, who is on his first bilateral visit to Naypyitaw, met Suu Kyi on Wednesday (6 September) and said he shares Myanmar's concerns about "extremist violence" in Rakhine.
"Your courageous leadership to the Myanmar peace process needs to be lauded," Modi said.
"We share your concerns about extremist violence in Rakhine state and violence against security forces and how innocent lives have been affected," he added.
Modi called on all relevant parties to work together to resolve the crisis, "by respecting Myanmar's unity and geographical integrity, peace, justice".
Suu Kyi responded saying: "We would like to thank India particularly for its strong stance that it has taken with regard to terrorist threat that came to our country a couple of weeks ago.
"We believe that together we can work to make sure that terrorism is not allowed to take root on our soil."
Modi's praise for Suu Kyi comes at a time when she is under increased international pressure and criticism after the exodus of over 120,000 Rohingya Muslims to Bangladesh in recent days.
The Nobel Peace Prize laureate has also been criticised for not speaking out on last week's violence.
However, she broke her silence when she held a telephonic conversation with Turkish President Recep Tayyip Erdogan.
She defended herself saying her government is doing everything to protect the Rohingyas, and slammed the media for promoting the interests of terrorists.
She criticised the "huge iceberg of misinformation" to Erdogan, according to local media reports which carried her statements.
"We know very well, more than most, what it means to be deprived of human rights and democratic protection.
"So we make sure that all the people in our country are entitled to protection of their rights as well as, the right to, and not just political but social and humanitarian defence," Suu Kyi said in her first comments.
The recent violence involving Rohingya Muslims is reported to be the worst one in at least five years.
The UN says the Rohingya are one of the most persecuted groups in the world.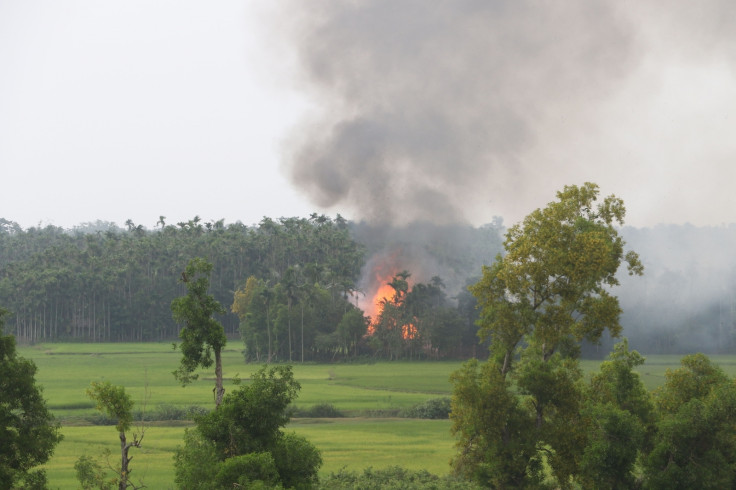 Meanwhile, during his visit Modi announced that India would grant free visas to the citizens of Myanmar who are willing to visit the South Asian country.
In addition, he has also promised to release 40 Myanmarese citizens who are lodged in Indian jails, as he sought to deepen ties between the two countries.