Across India, Hindu devotees are carrying idols of the elephant-headed god, Lord Ganesha – large and small – through the streets in processions accompanied by dancing and singing, before immersing them in bodies of water. The ritual symbolises seeing of the god off on his journey towards his abode at the end of the 10-day festival of Ganesh Chaturthi.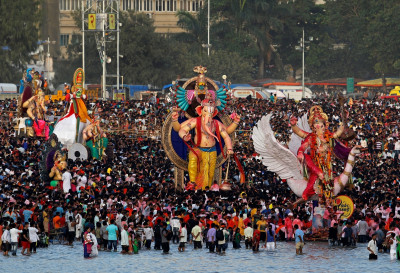 The festival is held in honour of the god of wisdom and prosperity, Lord Ganesha, also known as Ganapati. The son of Lord Shiva and Parvati, Ganesha is depicted as having an elephant's head and a man's body, usually with four arms.
Devotees place idols of the elephant-headed god in their homes or on elevated stages in public places and then – at the end of the ten-day period – immerse the statues in rivers, lakes or the sea. According to popular belief, Lord Ganesha blesses those who worship him on this day by removing obstacles from their lives and granting them new beginnings.