Inside McLaren Technology Centre where F1 racers and supercars are born
Bruce McLaren's hill-climb win in 1952 kickstarted the high-tech car manufacturer.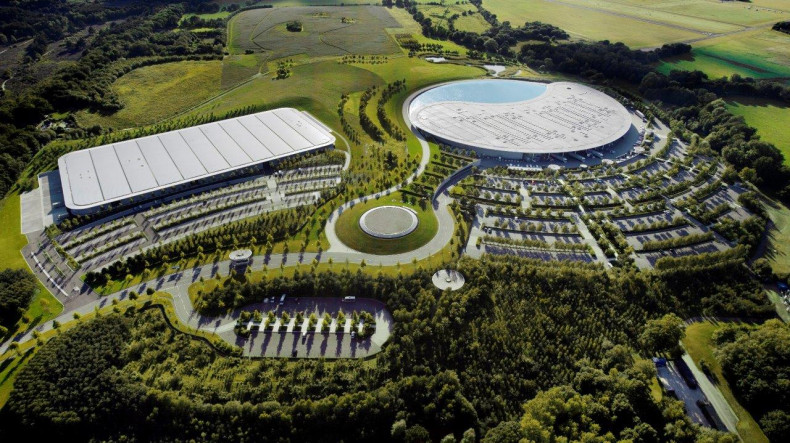 A line-up of world-famous cars with fact sheets next to each one makes The Boulevard at McLaren Technology Centre (MTC) look a lot like a museum. But cast an eye behind the Le Mans-winning McLaren F1 and you see a workshop full of engineers working on this year's Formula One racer, complete with exposed parts which, we are told time and again, cannot be photographed under any circumstances.
IBTimes UK visited to learn about a new technology partnership between McLaren and NTT Communications, a Japanese company that will provide cloud computing services to the F1 team, plus its Advanced Technology and Automotive divisions, for the next three years. We are also here to look inside Mission Control, which you can read more about here.
Next, we were given a tour of this spectacular, Norman Foster-designed facility. The MTC lives up to everything it is renowned for − every surface is immaculately clean, every line perfectly placed and there is absolutely zero clutter.
Completed in 2003, the MTC still looks as if it has come from the future, an alien spacecraft with its own lake that has somehow landed in the otherwise mundane surroundings of Woking, Surrey.
From a blackout caused by the wind tunnel, to employing fish, here are our favourite McLaren facts and figures, as revealed during our tour − and the precious few photos we were allowed to take.
---
The workshop floors use grey and white tiles so oil leaks can be located accurately (oil soaks into concrete), and dropped items like black nuts and bolts are spotted more quickly.

The steering wheel of a Formula One car from the 2016 season has 600 functions, accessed via buttons and scroll wheels.
A five meter-long Formula One car contains 6,000m of electrical cabling. Some is bound together using techniques learned from Nasa.




Iconic Formula One cars are on display at the MTC next to a Le Mans-winning F1 and £20m F1 LM

IBTimes UK

McLaren takes 16 arctic trucks' worth of equipment to each race. But only three contain the race cars and parts; the rest are for marketing and contain items like the hospitality enclosure. Six trucks alone carry furniture.

The team practices at least 150 pit stops each week. Cars are pushed into place and can have their four tyres changed in as little as 1.5 seconds.

The pit crew are contractually obliged to use the company gym three times each week. During the Grand Prix season they work from 6am to midnight for the four days of each of the 21 race weekends.

McLaren once had to commission a batch of floppy disks to be made, because there was no other way to get data off the computer of a Formula One car from 1989.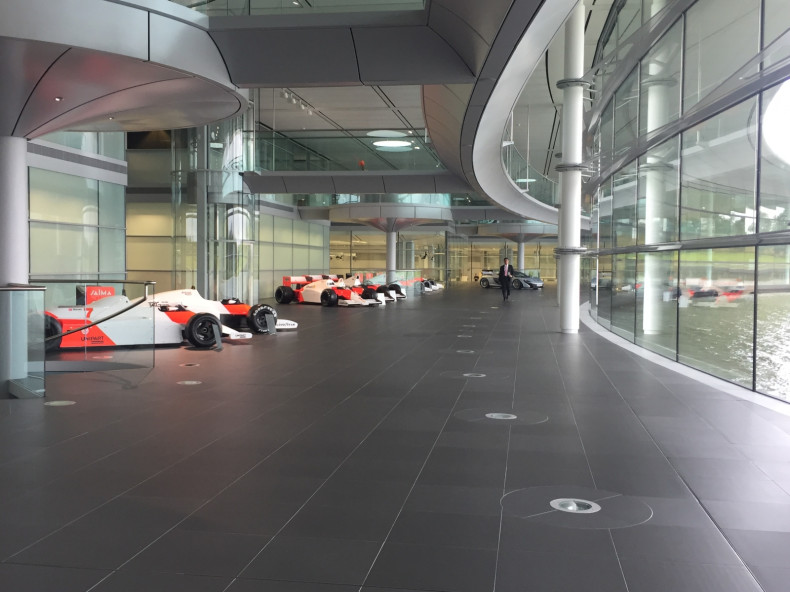 Unlike other teams, McLaren does not sell its race cars. It has a collection of 600 at a secret facility in Surrey called Unit Two.

Cars on display at the MTC include race-winners driven by Ayrton Senna, Alain Prost, Lewis Hamilton and Jenson Button. There is also the McLaren F1 that won Le Mans in 1995 and its road-going sibling, the F1 LM, which is said to be worth over £20m.

In 1998, when the MTC's wind tunnel was switched on for the first time, it caused a power cut across Woking. This was soon fixed and the tunnel hasn't been fully switched off since.

You can tell when the tunnel is being used because water from the lake next door flows down into it, having been used to cool the tunnel and its massive six meter-wide, 12-spoke fan.

The wind tunnel, which can produce gusts of 150mph, was used to design equipment for Great Britain's cycling, rowing and sailing teams who competed at the 2012 London Olympics. The wind tunnel has 30 gold medals attributed to it.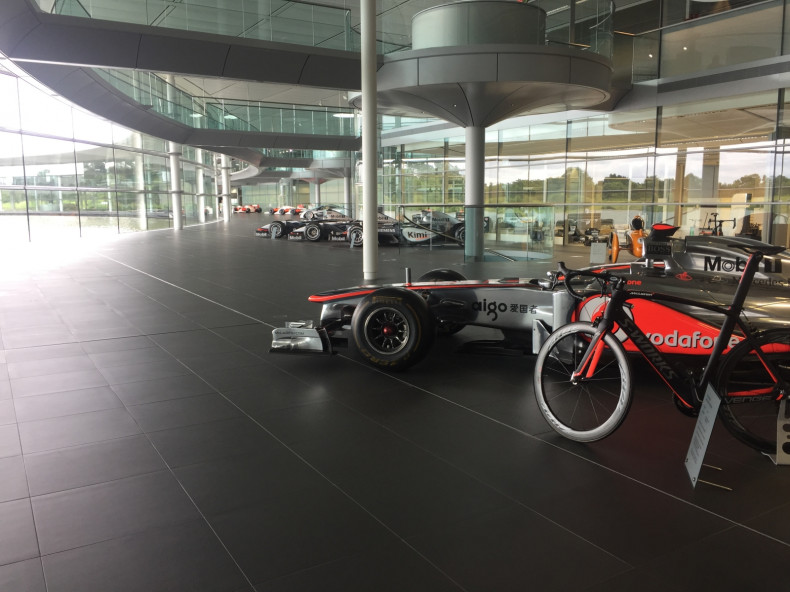 McLaren employs 3,000 people from the local area.

It also counts grass carp swimming in the lake as employees. They eat debris brought into the lake by water used to cool the wind tunnel. Being over 20C, the water temperature is perfect for them and they have grown to be much larger than average.

At the production facility next door, McLaren Automotive builds 4,000 road cars per year, around half that of Ferrari. Every McLaren is built to order.

The MTC is home to 647 trophies, stored in glass cabinets that span the length of a corridor that employees must walk through to get to the staff restaurant. Reminding them of past glory every time they walk by was an entirely deliberate move by the architects, our guide said. "Nothing is here by fluke," he says of MTC's design.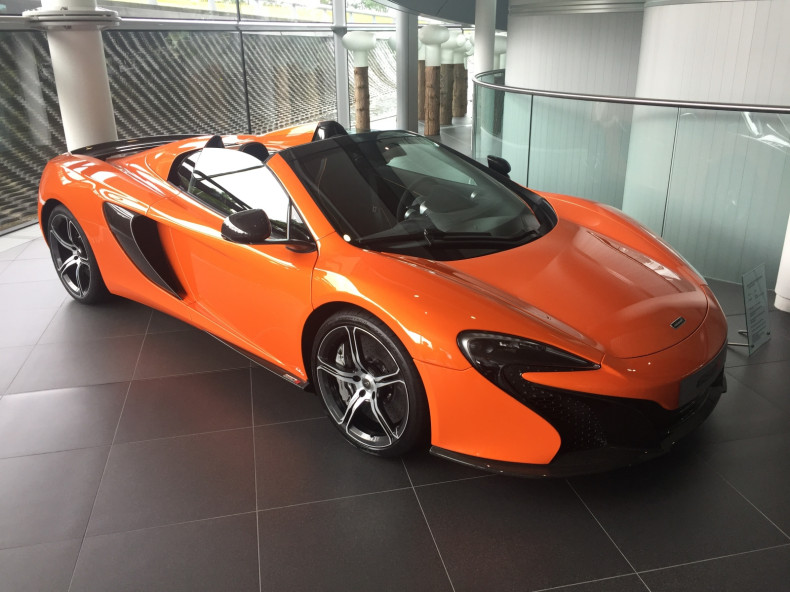 Drivers cannot keep the trophies they win at F1 races. Instead, McLaren keeps them and offers to sell the driver a replica.

Among the hundreds of trophies sits one given to company founder Bruce McLaren. Aged 15, McLaren won a 1952 hill-climb event in his native New Zealand using his father's Austen 7. On the back of the trophy sits an etching of a Formula One car.

McLaren technology is also used away from the road and race track. A system to land planes at Heathrow Airport uses technology from McLaren. A relative of this system is used by the F1 team to plot where cars are on a race circuit and how far apart they are from each other.