Smartphones, traffic jams, restaurants and taxis – North Korea's capital is showing signs of prosperity as it prepares for a display of military muscle and propaganda to mark the 70th anniversary of its ruling Workers' Party. The parade, due to be held on Saturday 10 October, promises to be the most elaborate spectacle since Kim Jong-un assumed power after the death of his father, Kim Jong-il, in 2011.
With foreign journalists arriving for the celebrations, the city has been given an extensive face-lift, with soldier-builders working around the clock to build new high-rise apartment blocks and paved roads with bicycle lanes. Pyongyang is far and away the most developed city in North Korea and is even relatively comfortable for the increasingly affluent segment of its populace.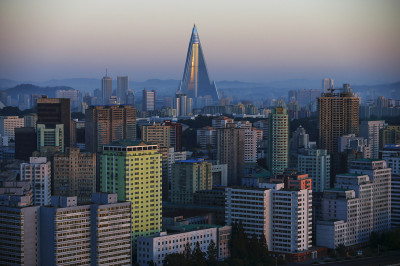 To make sure the parade goes smoothly, participants have filled public plazas for weeks to hone their marching, flag-waving and slogan-shouting skills. Crowds of students waving red flags and women in brightly coloured traditional clothing can be seen rehearsing in the streets of the capital.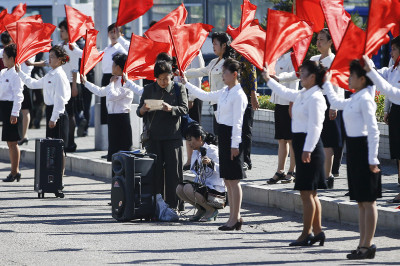 Mobile phones are now common in the capital, with nationwide subscriber numbers topping three million, an employee with Koryolink, the cellular carrier controlled by Egypt's Orascom Telecom, told Reuters. The number has tripled since 2012. A growing number of Pyongyang residents can be seen tapping screens of smartphones, although they are not connected to the internet and can only be used to access a domestic intranet.
Until recently a city of wide empty streets, Pyongyang is experiencing traffic jams as car ownership increases. North Korea's state-directed economy is stagnant, but thriving grey-market entrepreneurship is driving increased spending on consumer goods and services like restaurants and taxis.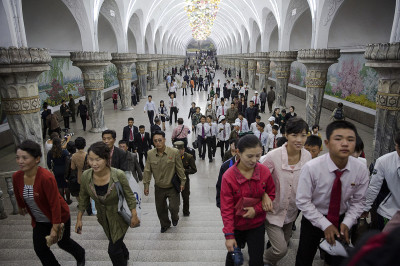 Although life in the capital is growing ever more comfortable, life in the provinces, and particularly in rural areas, is quite a different story. Much of North Korea remains impoverished, experts and aid officials say. An Associated Press Television News crew was allowed to join the Red Cross on a visit to a rural community in Sinyang County, which is just 150 kilometres (100 miles) from Pyongyang – a journey that takes three hours to reach by car on mostly unpaved roads. Instead of gleaming high-rise apartments and bicycle lanes, the people there are now just beginning to enjoy a far more fundamental improvement in their lives – disease-free running water.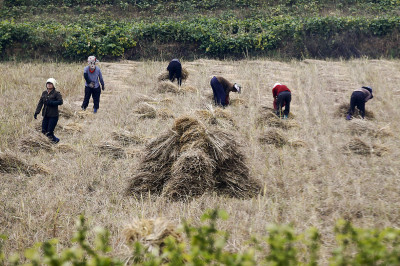 Visitors to North Korea are tightly controlled, minimising interaction with ordinary citizens, and the welcome is not always universal. As foreign journalists photographed three soldiers rowing through the early morning mist on the Taedong river, one of them was heard to shout: "Son of a dog!"