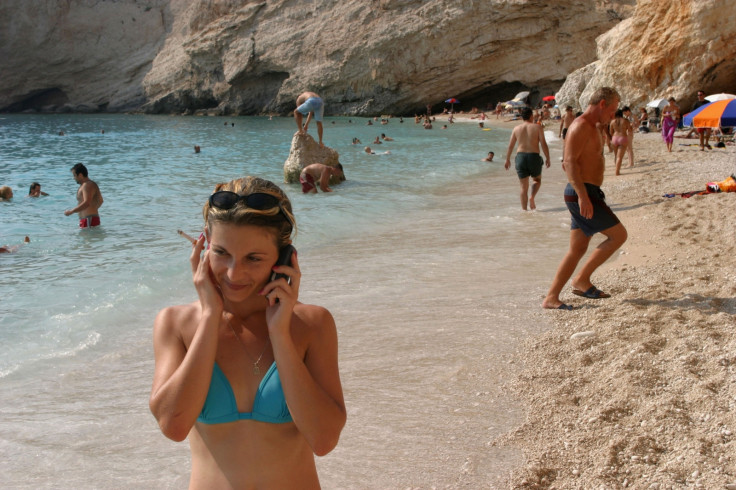 The summer holiday season is well underway with millions across the globe taking a much-needed break, getting away from it all. Revealing the riskiest holiday destinations with the biggest online security threats, Intel Security has found that the Brits' internet habits and inability to digitally detox and unplug while on holiday, are putting their personal and professional online data at risk.
According to a March study commissioned by Intel Security and conducted by MSI International, more than three quarters of Brits (79%) plan to connect online while on holiday, with about 42% admitting that the mere thought of disconnecting and being cut off from social media or their work email makes them feel anxious.
"Let's be honest, we can't get enough of our mobiles," Raj Samani, CTO of Intel Security, told IBTimes UK. "We want anything that can possibly be of use to us, we want our mobile apps to be able to work together, and we don't want any limitations that might separate us from the value they can provide us."
"Our craving for convenience and our anxiety towards being unplugged heightens the risk of security breaches because cybercriminals are aware of our behaviour and the operating systems' features that support the apps on our mobiles. Criminals know that if they can design a seemingly legitimate app that provides a useful service and doesn't appear to pose a security threat, their app could be able to slip through some mobile security protections."
The study also found that vacationers typically rely more on their mobile phones than other devices while abroad as well. About 32% of Brits said they wouldn't mind going without their laptops and tablets on vacation than their phones.
More than half of the respondents, however, admitted that they either don't think or care about whether the internet connection they are using is secure or not. Another 37% reported that they would connect to any internet they can find just so they can stay connected.
Cyber hackers look to exploit this 'holiday mode' mindset and security vulnerabilities by sending malware to a victim's phone through websites, SMS messages, ads, spam and downloaded apps to gain access to a wide range of sensitive personal and financial information.
Research also found that over the past year, Spain - the UK's top holiday destination - fell victim to the third highest number of mobile malware threats with 1.6 million attacks. The US, which is the Brits' second favourite country to travel to, topped the list of riskiest countries for mobile malware breaches with a whopping 4.8 million identified mobile malware threats in the last year alone.
Even Brits opting for a staycation instead are just as vulnerable to cyberattacks. The UK claimed the number three spot on the list with 2.1 million mobile malware threats followed by France, Poland, Canada and Italy.
| | | | |
| --- | --- | --- | --- |
| Destination rank | Country | Mobile malware threats identified in the past year | Risk rank |
| 1 | Spain | 1,697,645 | 3 |
| 2 | USA | 4,816,822 | 1 |
| 3 | Italy | 394,621 | 7 |
| 4 | Greece | 75,699 | 10 |
| 5 | France | 694,547 | 4 |
| 6 | Portugal | 375,105 | 8 |
| 7 | United Kingdom | 2,185,527 | 2 |
| 8 | Canada | 398,895 | 6 |
| 9 | The Netherlands | 329,949 | 9 |
| 10 | Poland | 475,225 | 5 |
(Source: Intel Security)
"In a lot of instances, the lack of care ties in with a lack of understanding about the implications of failing to secure your data," Samani said. "Nearly half of the UK admit that they do not know how to protect their devices when connecting to an open Wi-Fi network."
"For Brits travelling abroad this summer, familiarising themselves with the security solutions available to protect their data and devices from cybercrime will ensure attacks do not threaten to ruin their holiday."
In an increasingly interconnected world, one's need to constantly stay in touch and connected has resulted in an increasingly casual attitude towards online security with people letting their guard down whilst unknowingly opening themselves up to cyberattacks.
According to a recent survey by Kaspersky Lab, people are more likely to lose their personal data rather than money abroad with nearly 82% of people connecting to free yet unsecure public Wi-Fi networks including airport terminals, cafes, hotels and restaurants.
"Whether at work, home or on holiday, we all rely on mobile phones to stay connected to our friends, family and followers. All too often though, people throw caution to the wind when it comes to protecting their data away from home, and are often quick to use devices to access sensitive information, without considering the potential risk," Vice President of Consumer, Mobile and Small Business at Intel Security, Nick Viney, said in a statement.