Isis is planning a massive new terror attack similar to the 9 September, 2001 strikes on the US, Elaine Duke, US President Donald Trump's acting Secretary of Homeland Security, warned.
The Islamist militant group is currently in an "interim" period and is focusing on a much bigger endgame, she noted while speaking at an event at the US embassy in London on Wednesday (18 October). She also said that their intelligence indicated the jihadists were plotting to again use planes to cause maximum civilian casualties.
The Al-Qaeda terror group that masterminded and executed the 9/11 attacks had also used four planes to crash into major landmarks in the US, causing more than 2000 deaths. Two planes crashed into the twin towers of the World Trade Center in New York City, one crashed into the Pentagon headquarters in Virginia state and the other crashed near Shanksville, Pennsylvania, on its way to Washington DC.
"The terrorist organisations, be it Isis or others, want to have the big explosion like they did on 9/11. They want to take down aircraft, the intelligence is clear on that," the security chief was quoted by Daily Mail as saying at the event.
She added that the terrorist groups, meanwhile, are carrying out smaller attacks using vehicles, knives and machetes "to keep their finances flowing" and "to keep their members engaged".
"Creating terror is their goal and so a van attack, a bladed weapon attack, causes terror and continues to disrupt the world – but does not mean they've given up on a major aviation plot," she explained, urging countries across the world to tighten securities measures, especially at transit points.
Terming laptops as "one of the many aviation threats", she said that the level of terrorist threats against the US was "very high".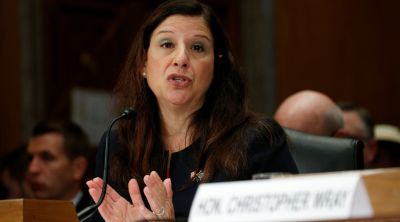 She also said that the country has taken "some strong measures" to tackle incidents like 9/11, but she did not elaborate on the measures. "We are trying to play the away game and that is working against them in their terrorist safe havens and homes.
"We do have some terrorist groups on the move, you just saw the take-over of Raqqa, and so if we can keep them declining and moving, they have less time to sit and prepare," she added.