Matthew McConaughey is front and centre of the first image released from Christopher Nolan's epic sci-fi Interstellar.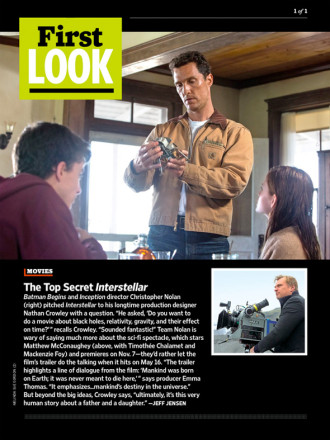 Shrouded in all the secrecy you'd expect from the Inception and Dark Knight director, little is known about the film other than its top-notch cast and that it involves space travel and worm holes.
Production designer Nathan Crowley talks about the film with EW, saying of Nolan: "He asked, 'Do you want to do a movie about black holes, relativity, gravity and their effect on time?' It sounded fantastic!"
This week a teaser poster for the production was released online, ahead of the first full trailer which lands on May 16 and will be tied to the release of Godzilla.
"The trailer highlights a line of dialogue from the film: 'Mankind was born on Earth; it was never meant to die here," says producer Emma Thomas. "It emphasises... mankind's destiny in the universe."
Little about the film's plot is known other than it will be about space travel and black holes. While this hasn't been confirmed, it is believed that the reason for Matthew McConaughey's Cooper travelling to space is because of a severe drought that has engulfed and crippled Earth.
Crowley doesn't add to this speculation, but does say that "ultimately, it's this very human story about a father and a daughter."
McConaughey stars alongside Anne Hathaway, Jessica Chastain, Casey Affleck, Michael Caine, John Lithgow and Matt Damon.
Interstellar will be released on 7 November.