Veteran hacker pod2g posted a tweet recently, to announce the untethered jailbreak for iOS 5.1.1 was in its final stages and would be released inside of a few days. Meanwhile, xvolks, a hacker who is a part of pod2g's team, has uploaded a video of the provisional jailbreak - reportedly to named Absinthe 2.0 - in action.
As iDownloadBlog notes, the video clearly sheds some light on what to expect when the tool gets a public release.
Here are some key facts as ascertained by iDownloadBlog so far:
The UI (user interface) of the tool is almost identical to the original Absinthe tool that was released for the 5.0.1 untethered jailbreak in January.
Much like the original Absinthe jailbreak, neither the DFU mode nor any other manual input is required; the process is fully automated. You just connect your compatible iOS 5.1.1 device, click jailbreak and you are done.
The jailbreak should be accomplished within 5 minutes approximately (at least on A4 devices).
No manual changes are required with any VPN settings, as suggested by the video. However, there may be a few changes with the public release.
Cydia is instantly installed following the jailbreak process.
Unlike the original Absinthe, which worked only for the iPad 2 or the iPhone 4S,Absinthe 2.0 appears to work with all eligible A4 and A5 devices.
Other Points of Interest
The video clearly depicts a Mac version in action, which hints a Mac version could be released first just like the original Absinthe release. Windows should be next in line, followed by a Linux release.
The original Absinthe release accompanied a Command Line Interface (CLI) version in January and the iPhone Dev Team is expected to deliver something similar to its earlier Corona exploit.
There is still no word on whether the new Absinthe jailbreak allows you to run tethered jailbreak on eligible A4 devices or install an add-on package like before with Corona for a full-fledged untethered jailbreak.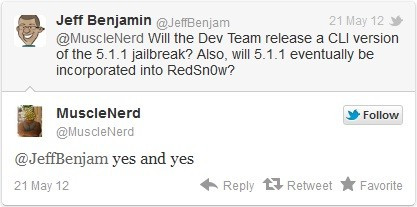 iDownloadBlog also sheds light on latest update confirmed with MuscleNerd over Twitter, which unravels a few interesting tidbits for the upcoming 5.1.1 jailbreak:
A CLI version of the iOS 5.1.1 jailbreak is on the cards and the upcoming jailbreak will be incorporated directly into Redsn0w as an all inclusive package. There is still no word about the timeframes for the public release of the jailbreak.
[Source: iDownloadBlog]