Stefan Esser (aka i0n1c) tweeted recently that someone close to the evad3rs Dream Team had stolen some jailbreak exploits and sold them to a private buyer. However, Pod2g (a key member of the evad3rs team) later rubbished i0n1c's claims as "complete bullsh**", adding that "the jailbreak stuff is moving on, but slowly."
As iPhone Hacks notes, iH8sn0w (the popular Sn0wbreeze jailbreak developer) has cautioned the jailbreak community against upgrading to iOS 7.1 in order to preserve existing exploits for installing the highly-anticipated iOS 7.x jailbreak. Answering a user query on Twitter, the veteran hacker reveals that the new iOS 7.1 Beta kills the mobilebackup2 exploit that writes to /var via the MediaDomain symlink.
Here is what iH8sn0w tweeted to his follower while explaining the consequences of upgrading to iOS 7.1 Beta 2: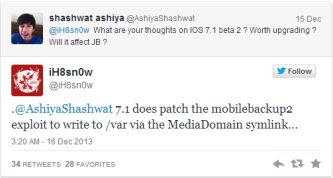 Providing further insight into the drawbacks of upgrading to iOS 7.1 Beta 2, a reddit user phoenixdev explains:
"Mobilebackup2 is the system used to generate your user backups, as well as place them back on the phone. But it's designed for only particular folders in the user directory.
"It has been used in years past via path walking (prepending ..'s to walk up the directory tree) to let us put files in other places in the /var partition. I'm guessing that they found they could do something similar by creating symlinks to other places on the /var partition."
"Actually, I'm not guessing. I know you could do that because a failbreak I once made used that.P.S. root partition = where the OS is installed; mounted at the base of the filesystem ( / ). /var partition = where the user data is; mounted at /var. When you update your phone, the root partition is overwritten while the var partition stays around. When you restore your phone, both partitions are wiped," adds phoenixdev.
Stefan Esser (aka i0n1c) too shares a similar opinion that Apple has indeed patched up some vulnerabilities that were being used for the iOS 7 jailbreak.

Jailbreakers are advised to hold off iOS 7.1 beta as well as public release upgrade until further notice from the evad3rs Dream Team as Apple is likely to fix a few known bugs and vulnerabilities with the upcoming updates. Nevertheless, evad3rs have not yet confirmed if the patched-up mobilebackup2 exploit is critical for the development of iOS 7 jailbreak.
With iOS 7.1 beta updates fixing a few known vulnerabilities, the evad3rs are likely to hold off the iOS 7 jailbreak release until next iOS public release from Apple.