Jay Freeman (aka Saurik) has just rolled out an updated Mobile Substrate (v0.9.5000) to support Cydia compatibility with all A7 devices that are jailbroken on iOS 7. In other words, the new Mobile Substrate completely supports all iOS 7 jailbreak tweaks and apps with 64-bit A7 chip powered devices including iPhone 5s, iPad Air or Retina iPad Mini.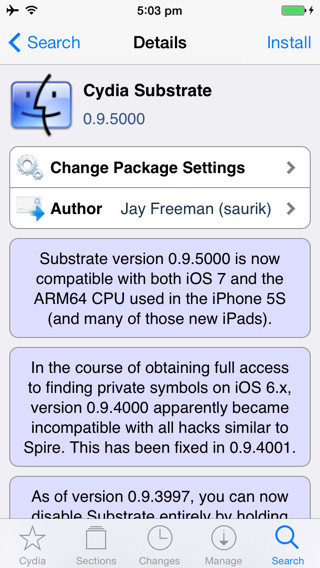 Here is what Saurik tweeted while announcing the release of new Mobile Substrate for 64-bit A7 compatibility: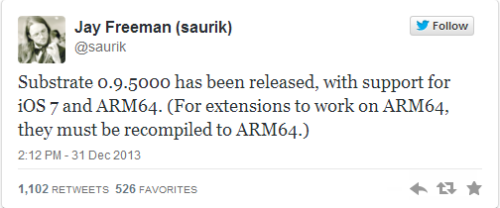 Most of the jailbreak tweaks and apps should now be fully functional, thanks to the Cydia compatibility fix released for A7 devices with this update. As Saurik suggests in his latest report, Cydia developers can now make their apps and tweaks compatible with iPhone 5s, iPad Air or Retina iPad mini by just recompiling their tweaks for ARM64.
Despite installing the latest Mobile Substrate 0.9.5000 (also renamed as Cydia Substrate), the iOS 7 jailbreak tweaks will not work until developers release an update for their tweaks with 64-bit compatibility. iPhone 5s and other A7 device owners will have to wait for these developer updates in order to take advantage of the updated Mobile Substrate.
NOTE: Installing Mobile Substrate 0.9.5000 will fix all iOS 7 jailbreak tweaks that were previously not working on 64-bit A7 devices.
How to Install Cydia/Mobile Substrate 0.9.5000 for iOS 7 on 64-bit A7 Devices
Launch Cydia
Tap on Search tab, and browse for Cydia Substrate
Tap on Cydia Substrate from the displayed search results
Finally, tap on Install button, followed by the Confirm button.
Tap on Restart SpringBoard button when prompted
Cydia/Mobile Substrate and Substrate Safe mode package will now be installed for iOS 7 and 64-bit A7 chip. You can now install any iOS 7 jailbreak tweak from Cydia that is updated to support 64-bit devices.
Must Read: iOS 7 Untethered Jailbreak: Evasi0n7 1.0.2 Update Fixes iPad 2 (Wi-Fi) Boot Loop Issue [How to Install]

[Source: iPhone Hacks]