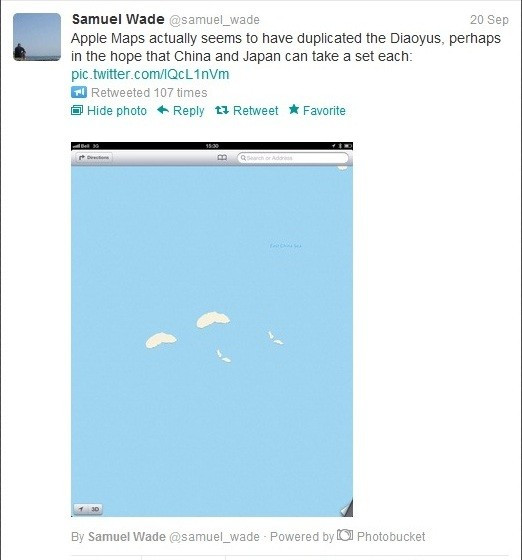 Apple Maps has dodged the Sino-Japanese island row, showing two chains of islands in the East China Sea, presumably one each for Japan and China.
The archipelago, known as Senkaku in Tokyo and Diaoyu in Beijing, has been at the centre of a political storm in recent days.
"The map has one set of islands for each country. Is this a message from Apple that we civilians must not get engaged in a pointless dispute?" wrote a Japanese blogger, according to AFP.
The new mobile software program, which replaces Google Maps in Apple's new iOS 6 operating system, has already attracted criticism for its mistakes. The app could not even locate Apple's flagship store in Sydney.
One user tweeted: "Apple Maps app show the disputed Pacific islands belonging to Japan. Google show them as Chinese. Maybe a Chinese boycott of iPhone5?"
A number of users have taken to cyberspace to poke fun at the new maps, posting screenshots of bad mapping errors on blogs.
"It's a complete failure. It's slower, its directions are poorer and its location data doesn't seem to be accurate. All around, it's not quite there yet," a user interface designer for a San Francisco-based startup, Jeffrey Jorgensen, told the Associated Press.
Apple has admitted the errors and has assured users that it is working hard to fix them.