Apple has just rolled out the fifth beta version of iOS 7 for developers to download. The iOS 7 beta 5 comes a week after the release of beta 4.
The new beta version is available to all registered Apple developers via Dev Center and as an Over-The-Air (OTA) update, which can be installed by navigating to the Software Update section in the Settings app of their respective devices with iOS 7 installed.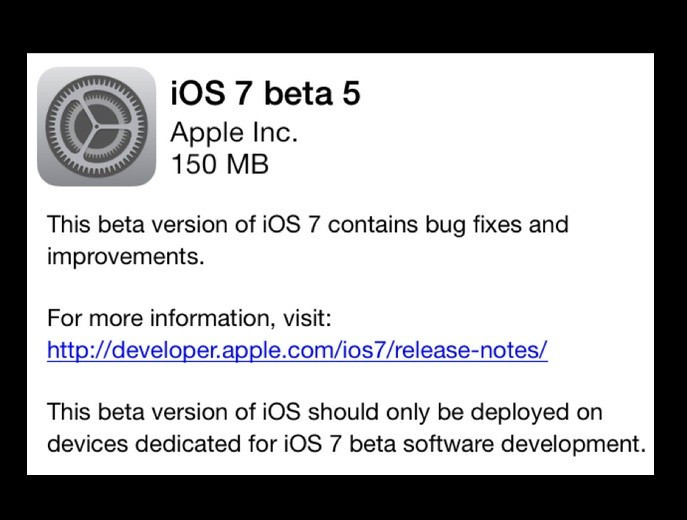 Bearing a build version of 11A4449a, the beta 5 is available for compatible iPhones, iPads and iPod Touch models. It brings several notable features and changes, notes iDownloadBlog.
iOS 7 Beta 5 Features
Icons in Settings app have been completely redesigned
New Yahoo! branding in Notification Center for stocks and weather
New system-wide Twitter icon
System-wide performance improvements
New banner notification pull-down UI
Option to disable Control Center within apps
Redesigned Power Off slider
Redesigned buttons in phone app's in-call screen
Install screen is now the same colour as your phone (white or black)
Improvement animation across entire OS
Tweaked blur and transparency UI across entire OS
New on/off switch for labels in Settings > General > Accessibility
Tweaked options in Camera app
Images can be shot with volume buttons
Improved camera access from Lock screen
Unlocking sound has been removed
Conversation in messages shows only first name (cn be changed in Mail, Contacts, Calendar Settings)
Extended carrier names scroll back and forth across status bar
App Store app now shows a+ for universal apps
New month indicator in Calendar app when scrolling through multiple months
Users can download additional dictionaries (select a word, tap Define and then Manage)
In Mail app, when selecting emails, Trash and Mark labels are flipped

Below are direct download links for iOS 7 beta 5 from iOS Dev Center. Registered developers can download the new beta using these links (courtesy of iPhone Hacks).
iPad (4th generation Model A1458)
iPad (4th generation Model A1459)
iPad (4th generation Model A1460)
iPad Wi-Fi + Cellular (model for ATT)
iPad Wi-Fi + Cellular (model for Verizon)
Those who wish to install iOS 7 beta 5 through a developer account or via a registered UDID may follow our step-by-step guide.
IBTimes UK reminds its readers it will not be held liable for any damage to the device. Before installing iOS beta firmware, users are advised to verify the iDevice meets the following requirements:
Compatible Devices:
iPhone 5, iPhone 4S, iPhone 4
iPad 4, iPad 3, iPad 2 and iPad mini
iPod Touch 5G
Pre-requisites
Ensure the latest version of iTunes is installed on computer
Download link: iTunes 11.0.4 for Windows and Mac
Backup device using iCloud or iTunes on the computer/Mac to avoid losing data during installation process
Verify device has above 80% battery charge
Device should be running on iOS 7 beta or beta 4 in order to install iOS 7 beta 5. (Click here for guide to install iOS 7 beta 4 without UDID or developer account)
Steps to Install iOS 7 Beta 5 Legally via Developer Account or Registered UDID
Step-1: Sign up at iOS Dev Center (using this URL, developer.apple.com/programs/ios/)
Note: Users should have an Apple ID. This costs £60 per year ($99) for those who are in the UK. The process is quite simple. Begin by entering your account information and then select a programme type. Now review and submit programme, agree to terms and conditions, purchase the selected programmme type and activate your programme
Step-2: Once process is done, point browser to developer.apple.com/devcenter/ios/index.action and sign into your account using Apple ID
Step-3: After signing in, find and register your device's UDID on developer's site. To find UDID of the device, connect device to iTunes. Now select it and click on serial number to reveal UDID. Users can copy UDID by pressing Ctrl+C on Windows or Command+C on a Mac
After getting UDID, navigate to developer.apple.com/account/ios/device/deviceList.action, name your device, insert the UDID and click Continue to register the device
Step-4: To download iOS 7 beta 5, select iOS 7 SDK beta on developer's site and click Downloads. Download the IPSW file according to specific device at hand
Step-5: The downloaded file should be in .dmg format. For users on a Mac, extract .IPSW from .dmg file natively. Users on Windows will need a programme like 7-Zip to do the same
Step-6: Once .IPSW is extracted, proceed to restore device via iTunes. Ensure all personal data is backed up, in order to avoid losing data via restore process
Step-7: Connect device to Mac/PC using USB cable. On OS X, hold Alt keyandon Windows hold Shift key, and click Restore. iTunes will then allow you to select the .IPSW extracted earlier. Select the firmware
Step-8: Let iTunes perform restore process
Provided all instructions are properly followed, the device should now be ready to run iOS 7 beta 5.
Also read- iOS 7 beta 6: Install without registered UDID or developer account [TUTORIAL]
[Source: Redmond Pie]