Apple announced its new mobile operating system, iOS 7, integrating hundreds of new features, at the company's annual WWDC conference on 10 June in San Francisco. The latest iOS is currently in its beta stage and will be rolled out as a free software update for iPhone 4, iPad 2, iPad Mini and iPod Touch (fifth generation) some time in this fall.
It has been almost three weeks since Apple released the iOS 7 beta to developers, but until now there is no information on jailbreak possibility of the latest iteration of iOS.
Popular iOS developer, Ryan Petrich, has now posted a screenshot showing Activator jailbreak tweak running on iOS 7.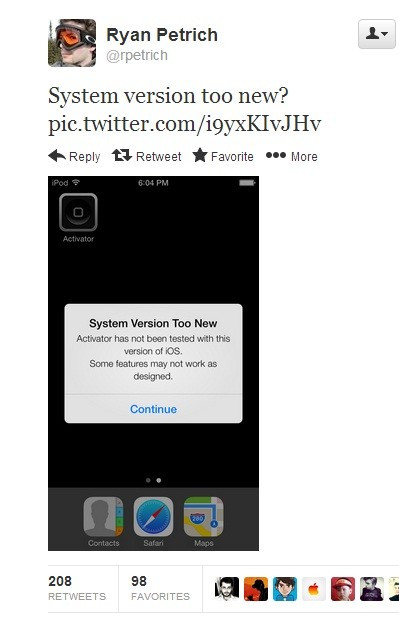 The iOS hacker first tweeted: "System version too new?" and below this posted a photo that shows the Springboard of an iPod Touch with an Activator icon and a UIAlert window that reads: "System version too new. Activator has not been tested with this version of iOS. Some features may not work as designed."
However, this alert, as iClarified claims, does not seem to be a UIAlert that could be generated from within a sandboxed application, suggesting the device may be jailbroken.
Besides, it is unclear what method Petrich used, whether he discovered another exploit for iOS 7 jailbreak or was able to use chpwn's failbreak.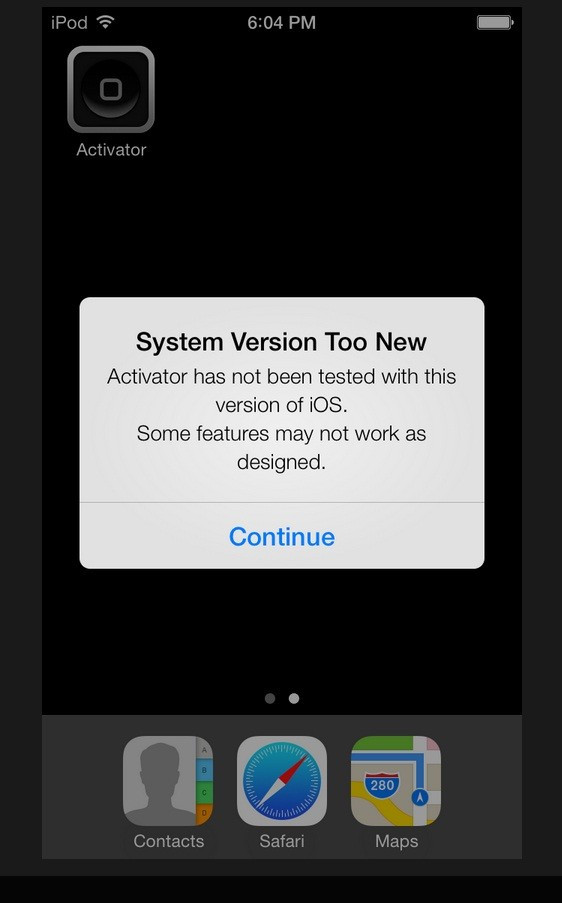 Prior to this, iOS hacker Joshua Hill, commonly known as p0sixninja, announced on Twitter that he has a lot of amazing things coming soon and was referring to something which is bigger than jailbreak. "I got a lot of amazing things coming to you all soon. Think bigger than jailbreak," tweeted p0sixninja.
Also Read- iOS 7: Tips and tweaks to enjoy extended battery life