Apple has just released the second beta version of iOS 7.1, with build number 11D5115D, to registered developers of the iOS Developer Programme for testing purposes.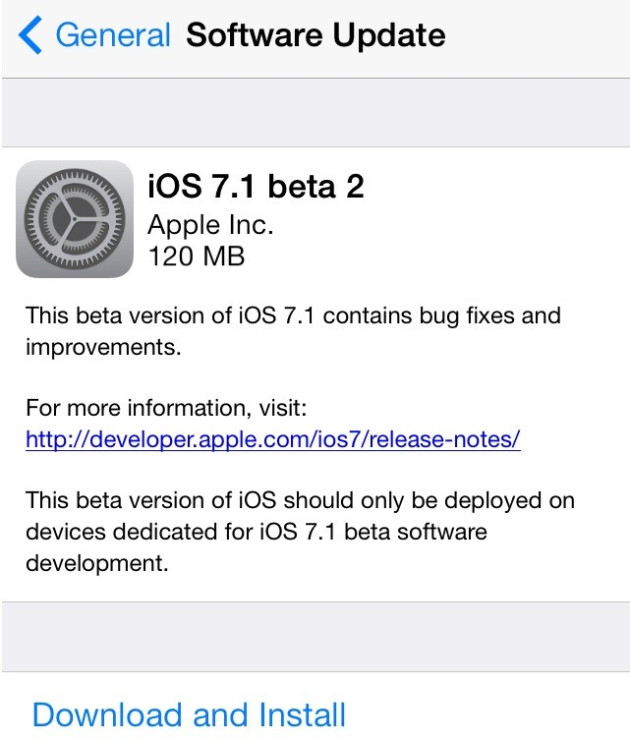 The iOS 7.1 beta 2 can be downloaded from the iOS Dev Center or as an over-the-air update if the iOS device is already on the iOS 7.1 beta.
The latest beta version is available for the following compatible iOS devices.
iPhone 5s, iPhone 5c, iPhone 5, iPhone 4S, iPhone 4
iPad Air, iPad mini, iPad 4, iPad 3, iPad 2 and iPad mini
iPod Touch 5G
Below are the direct download links for iOS 7.1 beta 2.
iPad
iPad (4th generation Model A1458)
iPad (4th generation Model A1459)
iPad (4th generation Model A1460)
iPad Wi-Fi + Cellular (model for ATT)
iPad Wi-Fi + Cellular (model for Verizon)
iPhone
iPhone 5s (Model A1453, A1533)
iPhone 5s (Model A1457, A1518, A1528, A1530)
iPhone 5c (Model A1456, A1532)
iPhone 5c (Model A1507, A1516, A1526, A1529)
iPod touch
The iOS 7.1 beta 2 comes about one month after the release of beta 1, which fixes network connection issues, other bug and the dark keyboard features. The latest beta 2 also brings several changes and improvements.
iOS 7.1 beta 2 features
1) Touch ID and Passcode Settings are now available in the Settings menu, rather than being inside General.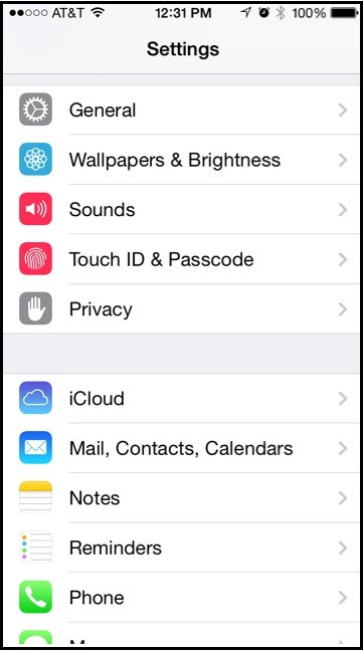 2) There is a new toggle to switch to list view in Calendar app. Now users do not need to tap on the search icon to see the list view, which was not very intuitive.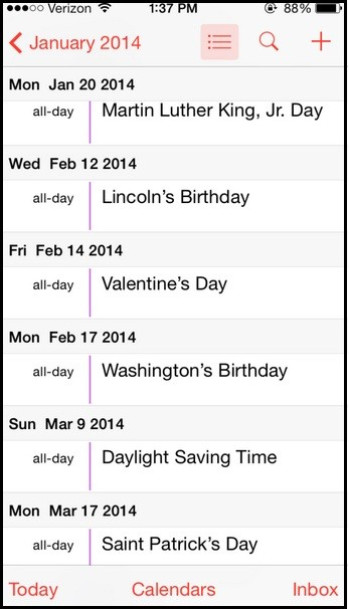 3) For text-only buttons, users can now turn on button shapes to better understand where they can tap. This feature can now be enabled from the Accessibility settings.
4) Apple has addressed the complaints with iOS 7 by speeding up the animations in this new beta.
5) Control Center has a bounce animation when you pull it.
6) The iOS7.1 beta 2, according to Apple, should not take a long time to load a large iTunes Match library.
7) Websites can now minimise Safari's top and bottom bars when a webpage is uploaded.
8) iOS 7 beta 2 add a new toggle for iOS 7 in the Car feature called Car Display, which suggests that Apple may be planning to launch the feature with the release of iOS 7.1 next year. This toggle comes in the Restriction page of Settings app, which shows users will be able to enable or disable the feature.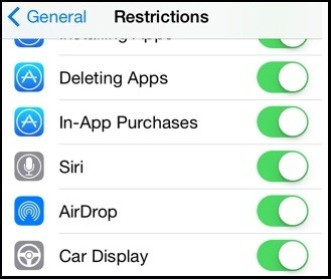 9) The beta 2 also brings new iPad wallpapers.
10) The dark keyboard from beta 1 has been removed.
Must read: HTC One Google Play Edition Gets Android 4.4.2 KOT49H KitKat [OTA Link]
[Source: iPhone Hacks]