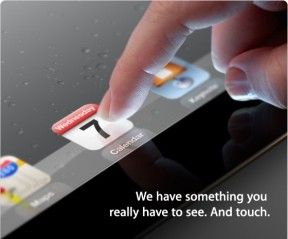 The clock is rapidly winding down to the big moment... the time when Apple announces the launch of the new iPad (iPad 3, iPad 2S or iPad HD, it is anyone's guess). The event is scheduled to start at 10 a.m. PT, at the Yerba Buena Centre for Arts in San Francisco.
The latest reports suggest the possibility of an A5X chip, 4G LTE capability, a 9.7-inch Retina Display with 2048x1536 resolution, improved graphics and a larger battery. Reports also suggest the possibility of the launch an Apple TV set.
Apple has not promised any live streaming of the event for the general public. Interested viewers can, however, watch live coverage on USTREAM.
There are deferred streaming and downloadable versions (after the event has been concluded) available here or on iTunes.
The complete coverage of the event can also be accessed at the following portals:
1. LIVE: Apple iPad 3 Launch Event: International Business Times UK posts offering authoritative news and analysis from Technology Editor David Gilbert.
2. SlashGear Live Blog: SlashGear will be live blogging the event as well
3. The Verge iPad 3 Live Blogging: The Verge will be live blogging too
4. Engadget Live Blog: As will Endgadget
5. GDGT Live: GDGT's live blog
6. ArsTechnica Live: ArsTechnica's updates
7. TechnoBuffalo iPad 3 Live Blog: Live updates
8. UberGizmo iPad 3 Live Blog: Live updates with the option to toggle auto-refresh
9. Macworld Live: Macworld will be offering live coverage also
10. CNET Live Blog: CNET's live blog
Check out the event time details given here.
Must Read: Apple iPhone 5 Vs Samsung Galaxy S3: Who Will Laugh Last?
Must Read: iPad 3 Vs Galaxy Note 10.1: Will Samsung's Flagship Tablet Threaten Apple's Counterpart?