Pre-orders for the iPhone 5 began on 14 September, a week before Apple's newest smartphones hit the shelves, and we've compiled all of the best deals from the UK networks in one place.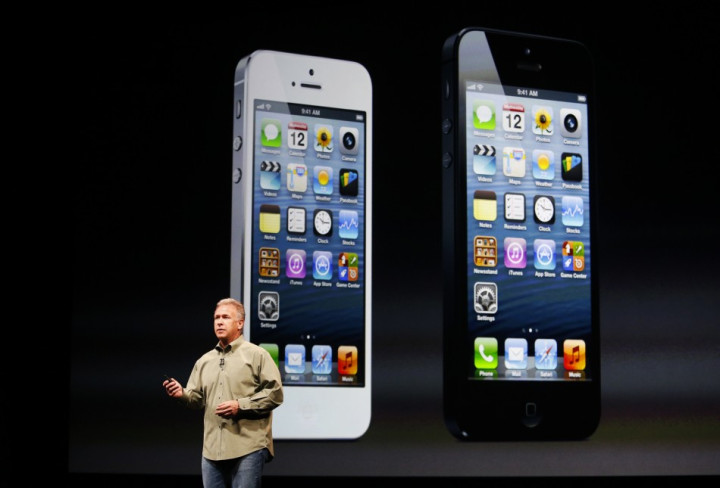 If you already have a contract that you are happy to stick with, or cannot yet upgrade from, then the iPhone 5 can be bought from Apple without a SIM card. Remember, the iPhone 5 uses a nano SIM card, so you will have to ask your network provider for a new one - these are free, but there may be stock shortages due to high demand.
The SIM-free and unlocked iPhone 5 costs:
16GB - £529
32GB - £599
64GB - £699
It's also worth noting that the iPhone 4S can now be has as a 16GB model for £449 and the iPhone 4 8GB is selling for £319.
Orange and T-Mobile both operate under the umbrella company EE - previously known as Everything Everywhere - and customers of both networks will soon be able to switch to EE', and take advantage of the UK's first 4G service.
As EE's new network isn't up and running yet, customers wanting to get an iPhone 5 with 4G will have to buy a contract with either Orange or T-Mobile, then transfer to EE "in the coming weeks."
EE contacted IBTimes UK to explain: "The process will be simple, and all that is required is a new SIM card and EE plan, which can be arranged with our service agents. Customers will not be charged for breaking their contract early, as long as they move to an equivalent priced and length plan on EE."
After asking EE if Orange and T-Mobile customers will need to start a new contract, the 4G network told us: "As customers will be breaking their T-Mobile/Orange contracts early, when they upgrade to EE their new contract with EE will begin at this point. Customers will not be charged for breaking their contract early, as long as they move to an equivalent priced and length plan on EE."
As of 17 September, EE is yet to announce its priceplans for the iPhone 5 or any other phone. If you're confused about how the new 4G netowkr works, then check out our guide here.
Vodafone was furious at Ofcom for allowing EE to set up its own 4G network months ahead of the competition, but the iPhone 5 will still be available on network, albeit without access to any 4G access.

CEO of Vodafone UK Guy Laurence said: "We really like the new iPhone 5. Not only is it lighter: it's easily the fastest iPhone yet on our 3G network. It's available on the new Vodafone Red price plans, offering unlimited calls, unlimited texts as well as loads of data. So the only choice you have to make is the colour, black or white?"
Before commiting to any of the deals above, go to Vodafone's upgrade page and, if you're already a customer, the site will explain when you can upgrade and may well offer a different deal than those we've published here.

For its existing customers Orange has an upgrade page. Simply go here, enter your number and see what the network says - it may well offer you a better deal that those listed elsewhere on the site. The page will also let you know if you can upgrade early from an existing contract.
Orange's 'The Works' plans all offer unlimited calls and texts to any UK network and the £51 a month deal offers unlimited data too, which we presume will include 4G once you've made the switch to EE.
Orange also offer deals at £20, £25 and £31 per month, but obviously the upfront cost of the iPhone will be much higher and these plans offer very little data - 250mb for £25 a month and just 100mb with the £20 a month tariff.

If these Full Monty deal are too expensive for you, then T-Mobile also offers £21, £26 and £31 options with 50, 100 and 300 minutes respectively and all three deals come with unlimited text and 750MB of data per month.

As with T-Mobile, Three also offers an upgrades page, so head here and enter your number to see if you can upgrade early, or get a deal that isn't listed above.
For unlimited texts, minutes and 1GB of data O2 is charging between £26 and £46 per month, and there's also a £63 a month deal that gives customers the option of upgrading their handset six months before the end of the 24 month contract.
O2 is giving the same minutes, texts and data with every tariff and the only difference between them is how much the iPhone 5 costs to buy.
The 16GB model ranges from free on the £46 per month deal, to £249.99 on the £26 a month tariff; the 32GB model costs between £99.99 and £299.99, and finally the 64GB iPhone 5 is between £169.99 and £399.99.
Conclusion
As usual, the cheapest way to get an iPhone is to buy the device up front and shop around for a cheap SIM-only deal, but shelling out at least £519 up-front is beyond the reach of many.
As for 4G, EE is yet to announce prices for its services, although reports suggest there is a minimum contract you need to be on in order to upgrade.
We will update this guide as soon as we hear more from EE, although what we have heard so far suggests that T-Mobile and Orange customers on mid- to high-end tariffs will pay the same when they switch to EE.