A gold iPhone 5S has sold on eBay for more than $10,000, as Apple fans scramble to get their hands on the out-of-stock smartphone - and UK sellers are making healthy profits too.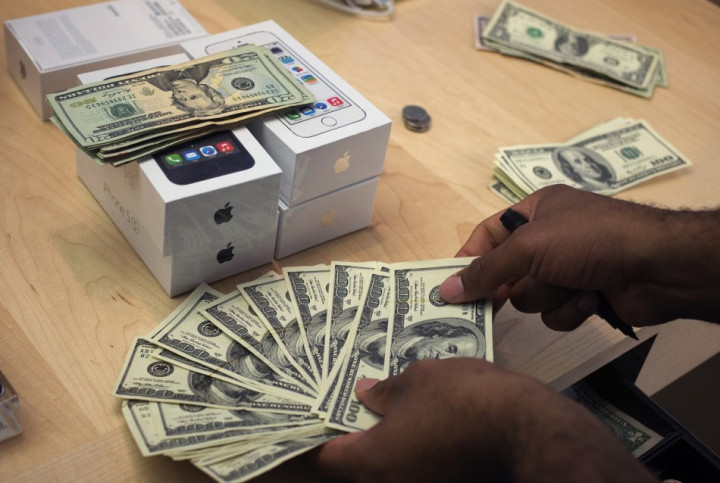 The iPhone 5s and 5c went on sale in the UK, US and much of Europe on 20 September, but many of Apple's UK retail stores were reported to have sold out of the flagship 5s just hours later, as eager fans queued in their hundreds overnight to secure the new phone.
Four days later, and Apple's online store offers a vague delivery date of 'October' for all nine configurations of the 5s, while the slightly cheaper 5c can be had within 24 hours.
In the US, a gold, 16GB iPhone 5s sold for $10,00 (£6,300), although the validity of the final two bids - which took the price from $2,500 to its closing price of $10,100 in just over an hour - cannot be confirmed.
Even still, this model of iPhone retails for $649 without a contract in the US, and it took just 46 minutes of bidding for the auction to exceed the retail price.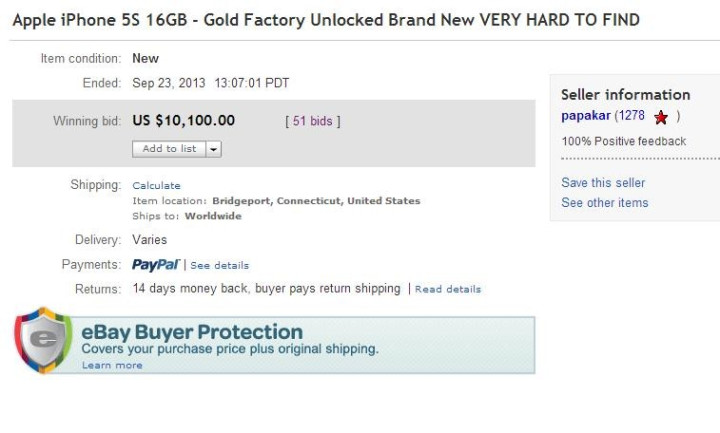 Huge demand for the iPhone 5s, which is priced from £549 to £709 without a contract in the UK, has seen bidding on eBay reach more than £1,000 per phone. One 64GB version of the gold iPhone 5s (retail price £709) has earned bids of £1,010 with the auction set to run for another two days.
Another seller based in the US has a 64GB iPhone 5s in gold listed at £1,700, although a bid on this phone is yet to be made.
A gold 32GB iPhone 5s (retail price £629) has received bids of up to £920 with eight hours of its auction left to run.
In all, 25 of the white and gold iPhones were listed above their retail price on eBay UK at the time of writing; and it isn't just the gold model that is proving popular, as a black iPhone 5s has earned bids of £1,200, almost £500 above the price buyers could pay if they are willing to wait until next month.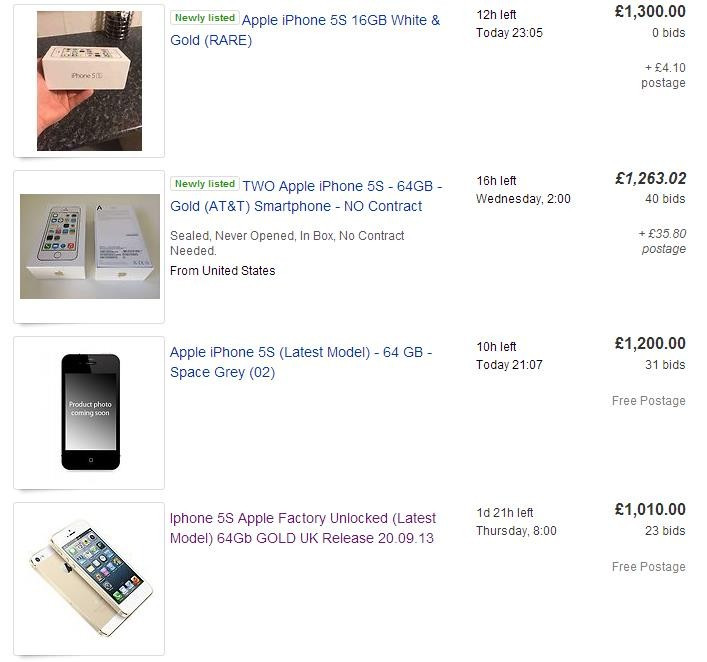 Finally, one lot of three 64GB versions of the gold iPhone 5s has a current bid of $3,550 with almost five days still to run; even at this early stage in the auction, the seller is set to make more than $1,000 profit.
Apple said it sold nine million iPhone 5s and 5c devices over the opening weekend of sales, and that the new iOS 7 operating system had been downloaded and installed on older devices more than 200 million times.
IBTimes UK interviewed Apple fans queueing for the iPhone 5s at Apple's flagship Regent Street store in London, but found the majority were there to make a profit. Many buyers slept rough for the night to secure a place in the queue, only to sell their phones on almost immediately for a profit. One buyer told us he would earn £200 for buying two phones which he guessed would be sold in a country where the device is not yet on sale.