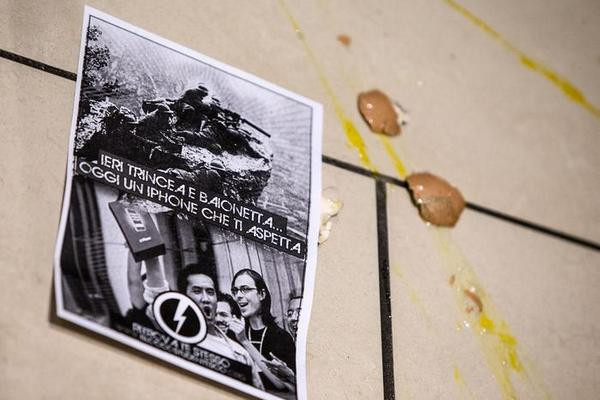 A splinter student group of Italy's notorious neo-fascist CasaPound movement has attacked buyers of the new iPhone 6 and iPhone 6 Plus, throwing eggs, flour and water at people queuing outside Rome's Apple Store.
Members of Blocco Studentesco also distributed flyers with a split picture showing the contrast between World War I's brutality and young customers holding the new iPhone.
"Yesterday: trenches and bayonet... today: an iPhone waiting for you," reads the anti-consumerist slogan on the posters. The organisation defended itself by saying that it was "an irreverent action to mock the consumerist craze to wait for hours and hours for a tech product that has become a status symbol".
"The water balloons hurled at people queuing serve as a wake-up call to youths addicted and attracted to cultural trends that are dictated by multinationals. The launch of a new product becomes an event for them," said Fabio Di Martino, spokesman for the far-right organisation.
"In the 100th anniversary of World War I, we don't want the sacrifice of those who died for Italy to be forgotten. It is an example for the new generations," he continued.
Far-right groups and fascist sympathisers have always found a breeding ground in Rome, which still displays buildings and symbols of Benito Mussolini's regime.
In the past months, the extreme-right group Vita Est Militia displayed posters urging Rome residents to boycott Jewish-owned businesses, causing shockwaves among Europe's oldest Jewish community. Rome's left-wing mayor, Ignazio Marino, condemned the incident saying that the language used in the posters "echoes the anti-Jewish blacklists of the Nazi period".
The episode came after Swastika graffiti and posters reading "Anne Frank storyteller" appeared on Rome's Appia Nuova street.
Earlier in August, Italian academics posted an online petition calling for a "Nuremberg" for the entire state of Israel for the "slow genocide of the entire Palestinian people".
The iPhone 6 and iPhone 6 Plus sold over 10 million units in in just three days.