We look at some of the extraordinary facts anf figures behind Apple's iconic iPhone as it celebrates its fifth birthday.
Apple's iPhone business didn't exist five years ago, and it is now a $100bn business and there are only 53 companies in the world that are bigger than the iPhone business - which remember sell just one model. (Source Wikipedia)
The iPhone business is the most profitable in the world. According to Business Insider, Apple takes a slightly higher profit margin on its iPhone sales than on the rest of its products (35 percent compared to 30 percent) meaning the profit from iPhone sales alone could be as much as $35bn making it more profitable than ExxonMobil based on 2011 figures

.
According to the latest figures from Strategy Analytics, Apple has sold 250m (yes, that's a quarter of a billion) iPhones since 2007 generating $150bn in revenue. And the rate of sales is growing fast. It took 74 days for Apple to sell 1million of the original iPhone, it took just three days to reach the same total for the iPhone 4S.

All of this means that the iPhone business is bigger than a 30-year-old tech institution called Microsoft. Steve Ballmer isn't laughing at the iPhone anymore.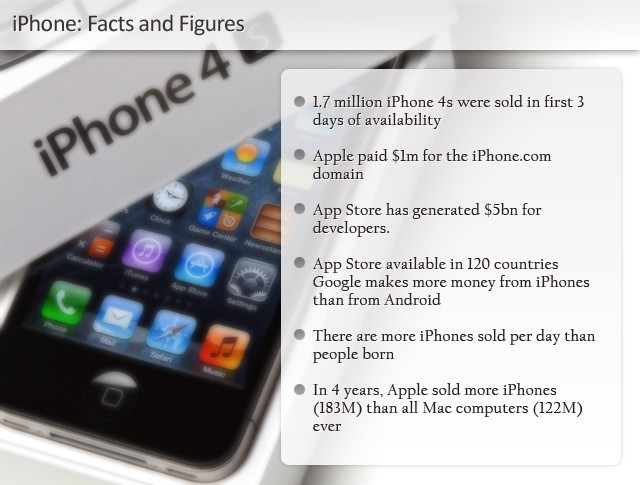 The App Store, in just four years, has been populated with 650,000 apps, seen 30 billion downloads and earned developers $5bn - not to mention making Apple a tidy profit too.

There are now more iPhones sold each day in the world than there are people born into it (around 300,000). We soon expect to see babies born with an iPhone in their hands.

The idea of releasing an iPhone came about a decade ago. Steve Jobs initially thought about the idea in 2002 but it wasn't until 2005 that Apple took practical steps to make it a reality.

We could have been looking at the Motorola iPhone. Apple initially contacted Motorola with a view to manufacturing the iPhone, following the success of its sleek Razr mobile phone. But following the failure of the ROKR, Apple decided to go it alone and things have worked out OK for them so far.

Cisco originally owned the iPhone name. Having decided on the iPhone name, Steve Jobs tried to persuade Cisco, who owned the trademark, to back down though he didn't offer any sort of compensation. Cisco refused, Apple launched the phone anyway, Cisco sued, and finally Jobs managed to persuade the CEOof Cisco to back down.

Surprising as it sounds, inital reviews of the iPhone were not entirely positive, with many complaining about the lack of 3G connection and the New York Times calling it "revolutionary but flawed"
Must Read:
iPhone 5th Birthday: History of the iPhone
iPhone 5th Birthday: Top App Downloads Ever [SLIDESHOW]