iPhone 5th Birthday: History of the iPhone [VIDEO]
As the Apple iPhone celebrates its fifth birthday, we take a look back at each model to see how it has changed over the years.
iPhone (2007)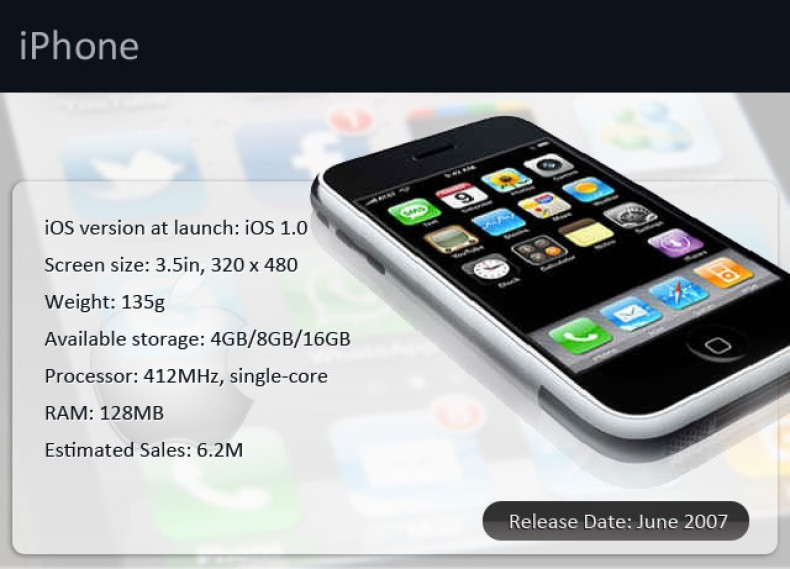 Announced by Steve Jobs on 9 January, 2007, the original iPhone was introduced as a mobile phone, a widescreen iPod with touch controls and a portable "web communicator" all in one device with a 3.5in screen.
Going on sale in the US on 29 June that year, the iPhone introduced the concept of a smartphone - a mobile phone that could browse the full internet, not just WAP pages, and arguably had more in common with a computer than a phone.
The iPhone - and iPod touch later in 2007 - also introduced multitouch to the masses, with the idea that a smartphone only needs a couple of buttons, with everything else happening on the large screen.
Available with either 4GB or 8GB of internal storage, the first iPhone retailed for $499 and $599 (£320 and £384) plus the monthly cost of an AT&T contract, leading Microsoft CEO Steve Ballmer to say at the time that it was "the most expensive phone in the world and it doesn't appeal to business customers because it doesn't have a keyboard which makes it not a very good email machine."
But the high price didn't put consumers off, and the now-standard overnight queues at Apple Stores around the world gave an early indication that this overpriced touchscreen iPod was about to change the way we looked at mobile phones forever.
The inclusion of an iPod application - a bare minimum smartphone requirement today - was impressive enough, with lists of songs that could be scrolled through with the flick of a finger, and an attractive 'Cover Flow' view of album covers could be brought up by turning the phone on its side.
Even threaded text conversations were not commonplace on mobile phones in 2007, and the ability to pinch to zoom in on websites and images felt like the stuff of Hollywood special effects.
Apple sold 270,000 iPhones during it opening weekend of sales in the US alone, and that was without the option to pre-order, meaning customers had to queue up for hours to get their hands on the device.
iPhone 3G (2008)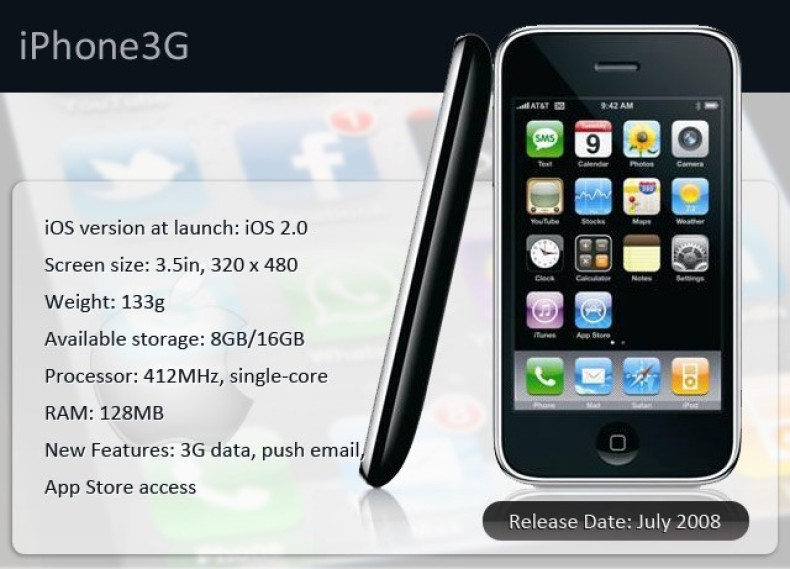 The original iPhone was criticised for not adopting 3G technology and instead relying on a much slower 2G 'EDGE' internet connection, so adding 3G to the next 2nd generation iPhone in 2008 was no great surprise.
Along with 3G - which Apple boasted to be twice as fast as 2G - the new iPhone got a significant price cut, down to $199 for 8GB and $299 for 16GB, with both models available in black or white.
Apple also added GPS and iOS 2.0 which introduced the App Store, a place where developers could distribute applications that they had made using the iPhone SDK (software development kit).
While small at first, the App Store would soon pave the way for a vast catalogue of applications to be developed, allowing the iPhone to do just about anything; this also made successful developers very rich and encouraged Google, BlackBerry and Windows to follow suit with their own application stores.
The iPhone 3G was launched with support for Apple's new cloud syncing and web email service, MobileMe. An evolution of dotMac, MobileMe promised to keep an iPhone and Mac or PC in sync and give access to email, contacts and calendars through a web browser, but the system struggled to cope with demand and became unreliable.
Apple later admitted that MobileMe was not its finest hour, and the service was replaced in 2011 by iCloud.
iPhone 3GS (2009)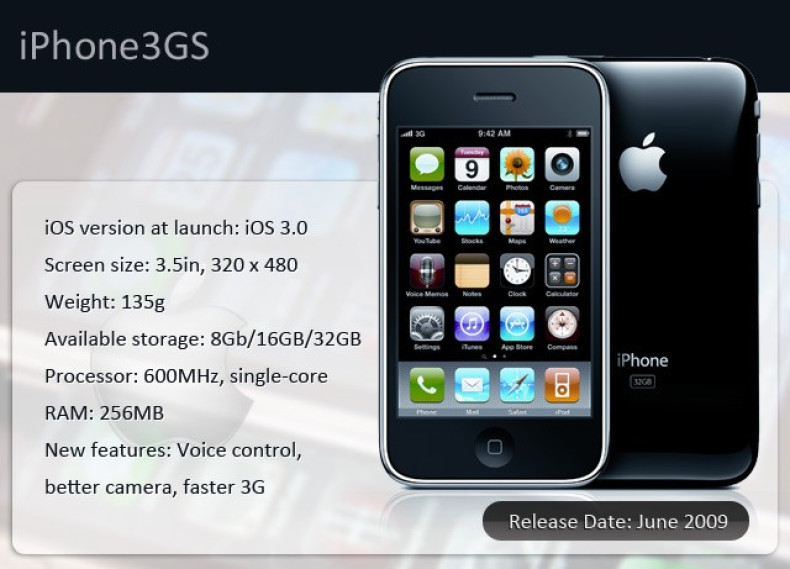 As had become habit, Apple announced the next iPhone - named 3GS - at its Worldwide Developer Conference (WWDC) in June, 2009. Carrying over the same physical design as the 3G, the iPhone 3GS was initially met with criticism as all of Apple's changes had occurred on the inside.
Apple said the S stood for "speed", which represented a faster processor (up from 412MHz to 600Mhz), improved 3-megapixel camera with autofocus (up from two megapixels previously), video recording and Voice Control, which would later evolve to become Siri.
Exclusively available on the iPhone 3GS, Voice Control let the user dial numbers and contacts, play/pause and skip music, and ask for similar music to what was already playing.
The iPhone 3GS also got a digital compass to aid map reading allowing for turn-by-turn driving directions, a voice recording application and support for the Nike+ running shoe sensor.
iPhone OS 3.0 made its debut on the 3GS, bringing the much-desired copy and paste functionality - something the iPhone should arguably have had at launch, two years previous - and a bump in storage to 16GB and 32GB options, while still selling for $199 and $299 plus contract.
The new operating system also added the ability to send MMS messages, conduct system-wide searches using Spotlight, and to track and remotely wipe the phone if it was lost or stolen.
For the first time, Apple began to sell two different iPhones at once to target a wider area of the smartphone market, by selling the year-old 3G for $99 alongside the new 3GS
iPhone 4 (2010)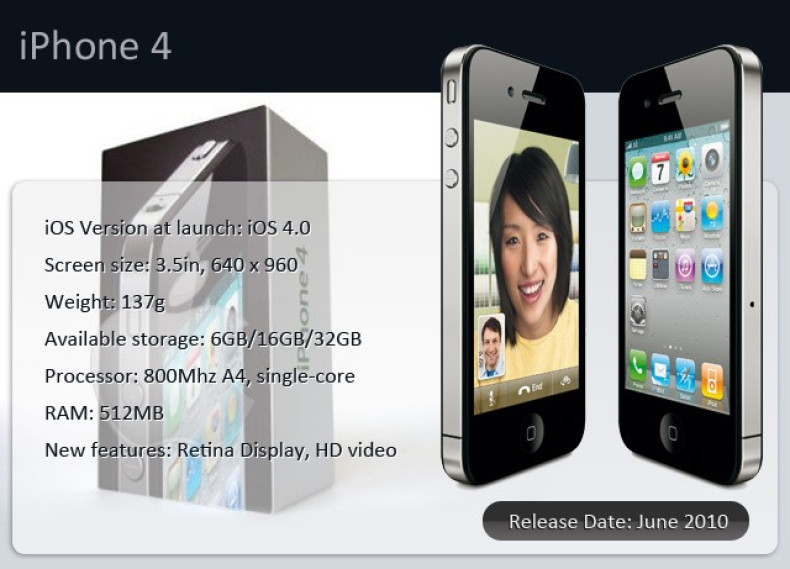 Apple is famous for keeping its new products a closely-guarded secret until the big on-stage reveal, but things were a little different for the iPhone 4, which found itself on the internet - in the hands of a tech journalist, no less - two months before its June 2010 launch.
In something of a comedy sketch, a prototype iPhone 4 - sporting 3GS camouflage - was left in a tequila bar by an Apple employee, only to be found and sold on to tech site Gizmodo, which then ran a week's worth of features about the not-so-top-secret phone.
Two months later, Apple CEO Steve Jobs took to the stage at WWDC to reveal the iPhone 4, which was seemingly unchanged from the lost prototype, and featured an all-new design and a Retina display boasting a resolution of 940 x 640.
Featuring glass front and back, with an aluminium chassis and exposed screw heads, the iPhone 4 brought a flat-edged and industrial feel to the iPhone, which previously had a plastic back.
Along with that hugely-impressive screen, the iPhone 4 included an upgraded 5-megapixel camera and, for the first time, a VGA-quality front facing camera for video calls with the new FaceTime application.
With an all-new A4 processor running at 800MHz and with 512MB of RAM, the iPhone 4 represented a significant step forward in the evolution of Apple's phone.
Packaging as much into as small a space as possible has always been a driving force behind Apple's designs, and this was represented in the iPhone 4 with the debut of MicroSIM, measuring about half the size of a regular SIM card.
Despite being launched in both black and white - and with storage of 16 or 32GB - it was some ten months before the white version was finally ready to ship, in April 2011, after Apple was initially unable to produce a consistent white on all parts of the phone.
Selling 1.7 million units in its first three days, the iPhone 4 quickly become Apple's most successful product launch in history.
But, just days after the iPhone 4 went on sale, an issue known as 'antennagate' arose, whereby the phone could be made to lose signal by covering the 3G antenna, which was located in the lower-left corner.
An issue made out to be catastrophic by the media resulted in Steve Jobs holding a press conference to apologise, but where he instead blamed rivals, such as BlackBerry, for having similar problems.
While free Bumper cases - which resolved the problem - were offered to early adopters of the 4, Jobs claimed that just 1.4 percent of customers had returned their phone, compared with 6 percent of 3GS buyers.
The late CEO said to one customer who emailed him to complain that they should "just avoid holding it in that way."
iPhone 4S (2011)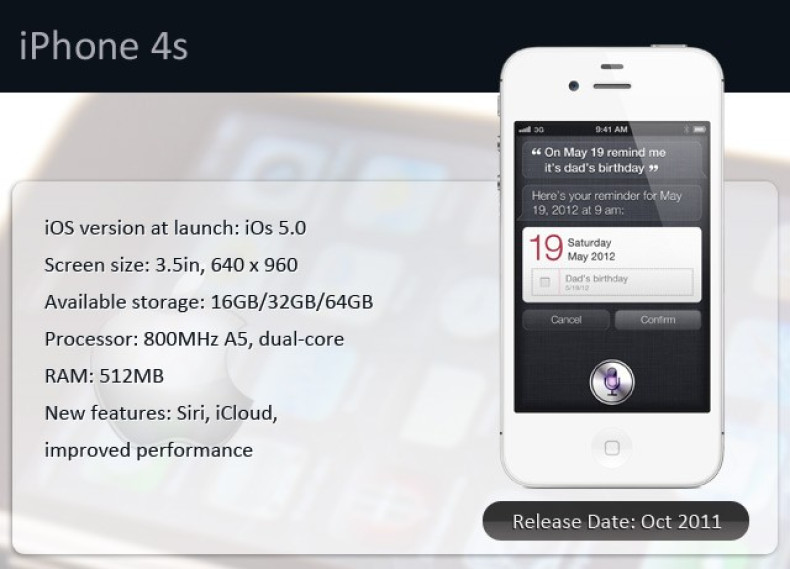 Rumours of an iPhone 5 circled the internet for months before the 4S was launched - continuing to this day - and as the circles grew wider the rumours became wilder, until eventually the iPhone 4S was launched.
Such was the ferocity of rumour between the expected June/July announcement and eventual October release, sales of iPhones and smartphones as a whole declined as everyone knew what was coming.
The mythical iPhone 5 turned out to be just that, and instead Apple offered up a similar upgrade as we saw with the 3GS. The 4S is almost identical to the 4 that it replaced - save for a repositioned antenna - as again, all of the changes are on the inside.
A dual-core A5 processor - found to be clocked at 800MHz - replaced the A4 chip, while 512MB of RAM remained the standard and storage ranges from 16GB, to 32GB and 64GB, although there is still no microSD slot to expand this further.
The talking point of the iPhone 4S was Siri, the voice-activated personal assistant that can answer back and perform a wide range of tasks, while possessing a good grasp of spoken language.
Siri was launched as a beta - and remains that way, some eight months later - but has caused enough of a stir for Samsung to create its rival S-Voice for the Galaxy S3, and Microsoft to include voice activation in its upcoming Windows Phone 8 software.
Not only that, but at WWDC 2012 Apple announced that it will partner with nine of the world's leading car manufacturers to bring Siri and its Eyes Free feature to the road when iOS 6 - and presumably the new iPhone - is released in the autumn.
Apple bumped the rear camera up from five megapixels to eight, while adding a host of improvements to image quality, and iCloud was launched to replace the failure that was MobileMe.
Much as before, the older model stays on sale at a reduced price, and even the two-year-old 3GS remains on sale, completing Apple's range of three smartphones with prices covering the majority of the market.
iPhone 5 (2012)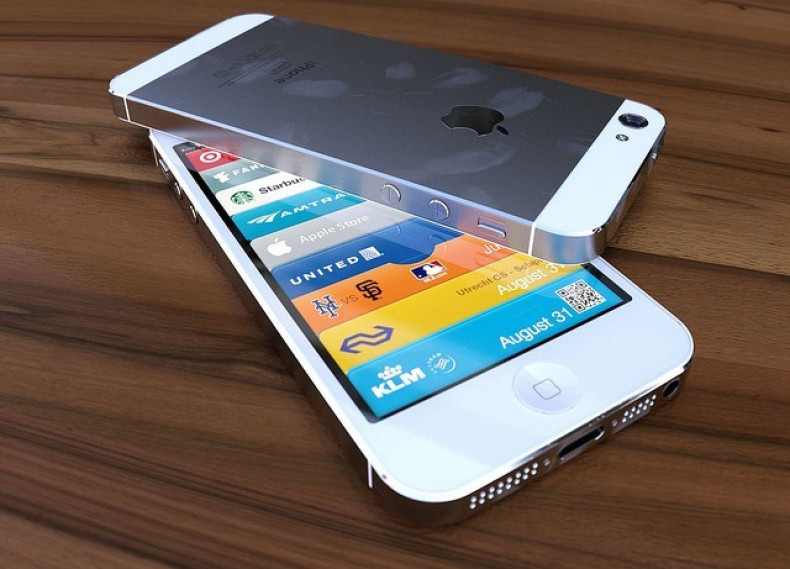 Having launched iOS 6 earlier this month, it is almost certian that the iPhone 5 will launch in the autumn when the new version of the software comes available to the public.
While Apple is obviously keeping its cards close to its chest on any details, rumours, leaks and reports suggest we will see Apple increase the size of the screen for the first time to around 4in, while also redesigning the 30-pin dock connector and doing away with the glass panel on the rear, replacing it with a Liquidmetal case.
However, this is all just speculation at the moment and we will have to wait until September (probably) to find out any more details.
Must Read:
iPhone 5th Birthday: History of the iPhone
iPhone 5th Birthday: Top App Downloads Ever [SLIDESHOW]