Samsung recently announced its flagship phablet (hybrid of phone and tablet), the Galaxy Note 3, at the high-profile IFA consumer electronics trade show in Berlin. The Note 3 is the latest addition to the Note series alongside the new Note 10.1, which was also unveiled at the event.
Following the launch of the third iteration in the Galaxy Note series, Apple has once again grabbed the spotlight with its grand unveiling of iPhone 5c (budget phone) and the flagship iPhone 5s. The iPhone 5s portrays similar design elements as the iPhone 5, such as the same 4in LED-backlit IPS LCD display with multitouch support, same dimensions and weight.
Given the basic similarities with the iPhone 5, the iPhone 5s packs a more-powerful dual-core A7 processor based on 64-bit architecture and paired with new M7 motion coprocessor, which measures motion data from accelerometer, gyroscope and compass for more efficient system performance and battery-life.
IBTimes UK brings a comprehensive features comparison of the two flagship smartphones, the iPhone 5s and the Galaxy Note 3, to help users decide which one to buy:
iPhone 5s vs Galaxy Note 3: Display
The iPhone 5s packs a smaller 4in LED-backlit IPS LCD screen in a compact, thinner (7.6mm) and lighter (112g) profile than the Galaxy Note 3 with 5.7in large full HD Super AMOLED display.
Samsung has confirmed to AppDated that its Note 3 features a PenTile AMOLED display, which consumes less power than RGB displays and also lasts longer (due to a lower number of blue pixels, which are least efficient on OLED screens).
The iPhone 5s features the same Retina display found on the iPhone 5 with multitouch functionality and fingerprint resistant oleophobic coating on the screen. The display runs at a native 640 x 1136 pixels resolution at 326 pixels-per-inch (ppi) and supports a typical contrast ratio of 800:1.
The Note 3, in contrast, supports full HD (1920 x 1080) display at a pixel density of 386ppi. It also supports multitouch display functionality with Corning Gorilla glass and oleophobic coating for protection against fingerprints, scratches and other superficial damage to screen.
The Super AMOLED on the Note 3 is known to offer greater brightness levels and wider viewing angles, but weaker colour reproduction and sunlight legibility when compared to the IPS LCD Retina display on the iPhone 5s.
iPhone 5s vs Galaxy Note 3: Dimensions
The iPhone 5s is clearly one of the lightest and thinnest smartphones in the market measuring just 7.6mm in thickness and weighing barely 112g. The Note 3, on the other hand, is taller (151.2mm), broader (79.2mm) and thicker (8.3mm), which also makes it heavier at 168g.
The overall dimensions of the two flagship smartphones are listed below:
iPhone 5s: 123.8 x 58.6 x 7.6 mm
Galaxy Note 3: 151.2 x 79.2 x 8.3 mm
iPhone 5s vs Galaxy Note 3: Operating System
iPhone 5s ships with new iOS 7 operating system that is optimised for the 64-bit A7 processor architecture. The new iOS upgrade introduces a host of advanced features such as support for Touch ID fingerprint identity sensor (built into the Home button), an improved iSight camera, smarter multitasking, AirDrop (share photos, videos and contacts via Wi-Fi or Bluetooth), Control Centre, iCloud photo sharing and more.
In contrast, the Galaxy Note 3 runs the latest Android 4.3 Jelly Bean out of the box. The Andoid v4.3 offers a host of new features and enhancements over its previous iteration (v4.2) such as support for Bluetooth low energy, restricted access, dial pad auto complete, improvements to Photo Sphere, 4K resolution support, improved DRM APIs and OpenGL ES 3.0 support for better game graphics. Another interesting feature supported on the Note 3 is the Multi Window functionality that lets you run or access two separate applications or browser windows on the display.
iPhone 5s vs Galaxy Note 3: Processor and RAM
The iPhone 5s is powered by new A7 dual-core processor (clocked at 1.7GHz) , which Apple claims to be the first 64-bit smartphone in the world. The new A7 chip is rated to be twice as fast as the A6 found in the iPhone 5 and around 40 times faster than the original iPhone.
In line with the company's claims, the latest graphics benchmark results indeed prove that the iPhone 5s is twice as fast as its predecessor while also trumping many of its rivals in both off-screen and on-screen mode tests with GFXBench 2.5 Egypt HD benchmark.
The A7 processor introduces OpenGL ES v3.0 support for detailed graphics and complex visual effects, which was earlier possible only with Mac and Windows computers. In addition, all the integrated apps are specially optimised for the A7 chip to deliver faster performance with high energy efficiency for greater battery-life, thanks to the introduction of the M7 coprocessor.
The M7 uses less power than the A7 chip by reducing network access times as it constantly monitors and measures motion data from accelerometer, gyroscope and compass when you are on the move. It automatically shuts down unwanted services in the background to save battery.
The Galaxy Note 3, in comparison, ships in two different processor configurations for 3G and 4G (LTE) models. The LTE model ships with Qualcomm Snapdragon 800 chipset based quad-core 2.3 GHz Krait 400 processor, while the 3G model will arrive in two processor variants: quad-core 1.9GHz Cortex-A15 and quad-core 1.3GHz Cortex-A7.
Graphics processing on the LTE model is handled by Adreno 330 GPU and it is paired with 3GB of RAM which Samsung claims to be the smartphone industry's largest RAM for faster and more powerful performance.
UPDATE: Though there is no official word on GPU and RAM of the iPhone 5s, Anand Lal Shimpi of AnandTech and John Gruber of Daring Fireball, have confirmed through iPhone 5s benchmark tests that the phone comes with only 1GB RAM.
iPhone 5s vs Galaxy Note 3: Camera
The Note 3 equips a 13 megapixel rear camera with Ultra HD 4K video recording, Smart Stabilisation and high CRI LED flash features, which enable users to capture high quality images in great detail, even in low-light conditions.
In comparison, the iPhone 5s features an eight-megapixel (3264 x 2448 pixels) iSight camera with true tone flash and auto image stabilisation. It also supports a 1.2 megapixel front camera which supports FaceTime HD video calls over Wi-Fi or 3G.
Both the smartphones include common camera functions such as geo-tagging, touch-focus, face-detection, panorama and HDR with full HD video recording at 30fps on their primary cameras, while only the Note 3 supports full HD recording on its secondary camera. The other exception is that the LTE model of Galaxy Note 3 supports a faster 60fps video recording in full HD.
The iPhone 5s also supports various integrated camera modes and features such as continuous burst mode, slow-motion video, low video zoom, square photos and photo filters.
In contrast, the Note 3 features several built-in camera modes and features such as Dual Shot/Dual Recording/Dual Video Call Recording, Drama Shot, Sound & Shot, Animated Photo, Eraser, Best Photo, Best Face, Beauty Face, Sports, Golf, Surround shot and Live effect.
iPhone 5s vs Galaxy Note 3: Connectivity
On the connectivity front, both the Galaxy Note 3 and the iPhone 5s offer Wi-Fi 802.11 a/b/g/n, Wi-Fi Direct, Wi-Fi hotspot, Bluetooth v 4.0 with A2DP, microUSB v2.0 and 4G LTE networks (unavailable on 3G version of Note 3).
The iPhone 5s offers Ultrafast LTE wireless connections with up to 13 LTE bands to enable faster download and upload speeds in more places around the world.
Besides, the Galaxy Note 3 supports latest Wi-Fi standard 802.11 ac, Near Field Communication (NFC) and infrared communication with infrared enabled devices.
iPhone 5s vs Galaxy Note 3: Storage
The iPhone 5s will be available in 16, 32, and 64GB storage variants, while the Note 3 will ship in 32 and 64GB variants only. The latter features microSD expansion support up to 64GB, while the former has no such option.
iPhone 5s vs Galaxy Note 3: Battery
The iPhone 5s is claimed to offer a talk-time of up to 10 hours on 3G or up to 250 hours of standby time. In other words, it is rated to offer 10 hours of video playback or 40 hours of audio playback or up to 10 hours of Wi-Fi access.
There is no word on the battery performance of Galaxy Note 3 yet, as the device was recently announced and it has not yet been tested. However, Samsung has claimed its 3,200mAh battery to be more powerful and long lasting.
iPhone 5s vs Galaxy Note 3: Price and Availability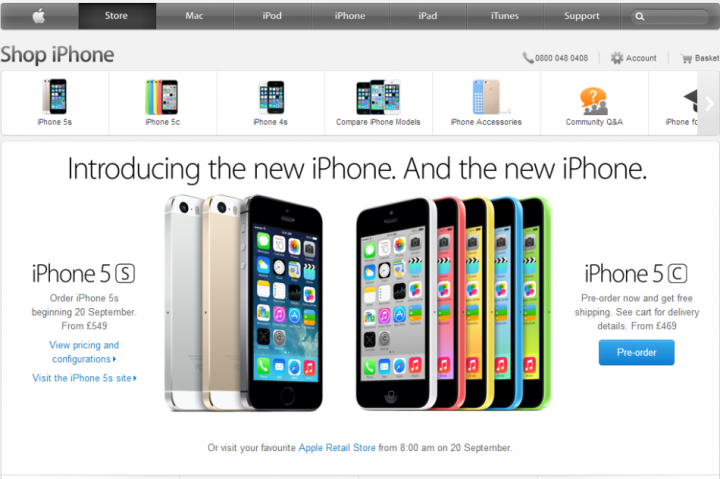 Apple recently announced that both its flagship iPhone 5s and iPhone 5c (budget phone) will go on sale in the UK on 20 September. The iPhone 5c is now available for preorders via Apple store in UK, but prospective iPhone 5s buyers in UK can place orders from 20 September, at a starting price of £549.
In addition to Apple online store, both the iPhone 5s and the 5c will be available at all Apple retail stores and select Apple Authorised Resellers including Phones 4U and Carphone Warehouse, following the release.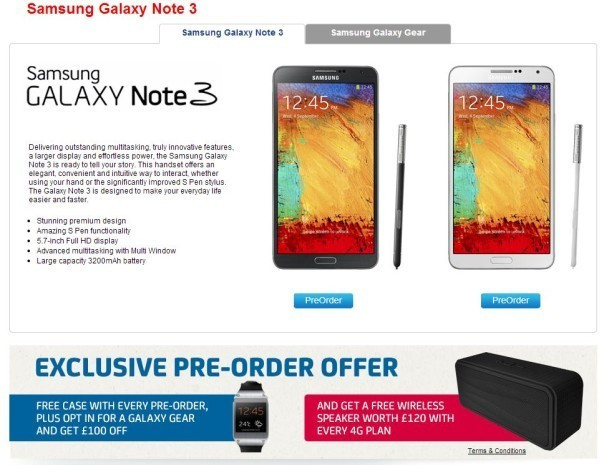 A recent press release suggests that the Galaxy Note 3 will release in Jet Black, Classic White and Blush Pink variants starting 25 September in more than 140 countries globally.
The Galaxy Note 3 is now available for pre-orders via the UK carrier EE at a starting price of £149.99 on a two-year contract and the phablet will start shipping on 25 September. Another popular UK retailer, Phones 4U, has announced that every Note 3 pre-order will get £100 off on Galaxy Gear's price, besides a free flip case and a wireless speaker worth £120 as part of bundled offer.
ALSO READ: iPhone 5s Performance in Drop and 50 Cal Bullet Endurance Tests Revealed [VIDEO]