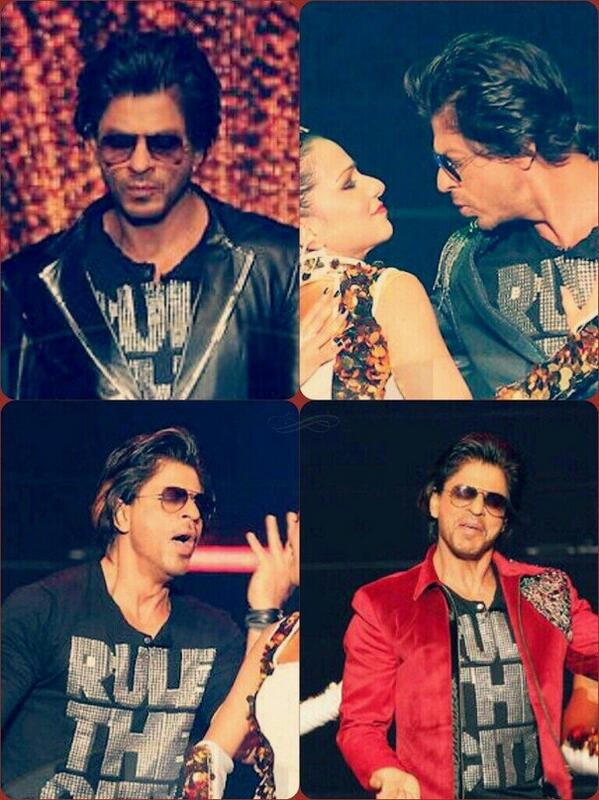 Shahrukh Khan was at his entertaining best at the IPL 2014 gala dinner in Abu Dhabi on the night of April 15.
SRK along with Bollywood actress Deepika Padukone were in top form as they charmed the guests and performed some of their hit songs.
The sit-down dinner was a glamorous prelude to the cricket beginning on Wednesday in the capital, reports Gulfnews.
"What a wonderful city Abu Dhabi is. I need to thank them for hosting us and being so warm and gracious," said Khan as a dazzling display of fireworks went off around him.
"I wish all the players the very best and I can't wait to see them create magic on the field," said Khan. He also thanked Shaikh Nahyan Bin Mubarak Al Nahyan, Minister of Culture, Youth And Community Development, for his support.
Khan who engaged in some on-stage banter with the players also later tweeted:
Big thanks to Shane Virat & Dhoni for being so sporting on stage. Great sportsman & even greater sporting spirit. Thanks Abu Dhabi & IPL.

— SHAH RUKH KHAN (@iamsrk) April 16, 2014
While Padukone didn't take the microphone to interact with the guests, she made up for it by dancing like a dream to catchy numbers from some of her blockbuster movies including Ram Leela and Yeh Jawaani Hai Deewani.
Pic-1: @deepikapadukone performing at #IPL2014 #OpeningCeremony pic.twitter.com/G5XhQF2F4r

— C (@Chandmouliman) April 16, 2014
Shah Rukh Khan and Virat Kohli On Stage #IPL2014 #OpeningCeremony pic.twitter.com/jfYNvR779A — Universe of SRK (@SRKUniverse) April 15, 2014
Photo-4: Shah Rukh Khan Performing at #IPL2014 Opening Ceremony pic.twitter.com/idCommxPC5

— Universe of SRK (@SRKUniverse) April 15, 2014
♥#ShahRukhKhan ♥ @iamsrk♥ #IPL2014 ♥ #OpeningCeremony at IPL Gala Dinner ♥‼➡➡ pic.twitter.com/yL5alCm427 — Tiigra (@TiigraKsya) April 15, 2014
#ShahRukhKhan (@iamsrk) performing at #IPL Opening Ceremony. #IPLGalaNight @KKRiders ➡➡ pic.twitter.com/tWnPM2yuGU

— Tiigra (@TiigraKsya) April 15, 2014
♥ #ShahRukhKhan ♥ (@iamsrk)♥ at #IPL Opening Ceremony ♥ #IPLGalaNight @KKRiders ♥‼▶▶ pic.twitter.com/gNAaZF5sBr — Tiigra (@TiigraKsya) April 15, 2014