One of the biggest anti-government protests Iran has witnessed since 2009 continues to rage on well into the fifth day. So far, over 400 protesters have reportedly been arrested and around 15 people, including policemen, have died.
The Iranian government reportedly blocked social media and internet services on Sunday (31 December). The BBC reported that social media and messaging services such as Telegram and Instagram, which are locally popular, remained blocked over the weekend to prevent protesters from organising demonstrations and propagating their messages.
The protests first began on Thursday in the city of Mashhad and quickly spread like wildfire across the nation. Eventually violence erupted in some of Iran's major cities, including capital Tehran, as citizens took to the streets, with some videos showing people reportedly chanting "death to the dictator", according to Reuters.
Although the protest rallies initially reportedly focused on increasing economic hardships, it quickly evolved into political rallies, and saw protesters' anger directed toward the Iranian president Hassan Rouhani as well as the Supreme Leader Ayatollah Ali Khamenei — the nation's clerical leader who has been in power since the 1979 revolution.
"People poured into the streets today because they are tired of the rising cost of living," a protester in Kermanshah told the Center for Human Rights in Iran (CHRI). "When we don't have bread to eat, we are not afraid of anything. It's just the beginning. We cannot hold back because we cannot feed our families with silence."
"Iranian authorities started blocking Telegram in Iran today after we publicly refused to shut down channels of peaceful Iranian protesters, such as @sedaiemardom," Telegram founder Pavel Durov, wrote in a blog, in response to Iran's internet censorship.
"Obviously, our neutrality and refusal to take sides in such conflicts can create powerful enemies. Iranian officials have filed criminal charges against me back in September for letting Telegram spread 'uncensored news' and 'extremist propaganda'. Today they imposed a block on Telegram – not clear whether permanent or temporary."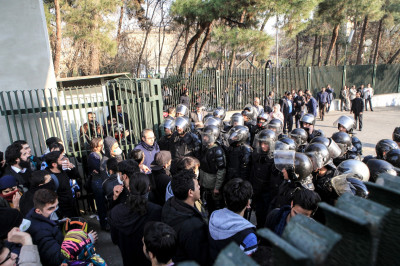 "We cannot predict a time when the protests will come to an end," said Sadegh Zibakalam, an author and academic, Al Jazeera reported. "But the protests will shake the people in power who must give priority to the people's demands and needs."
Motherboard reported that some Iranians have now resorted to using VPNs to circumvent the government's suppression of information. During the protests, some even reportedly removed passwords to allow more people access to the internet.
It is still unclear as to how long the Iranian government intends to continue restricting internet services.