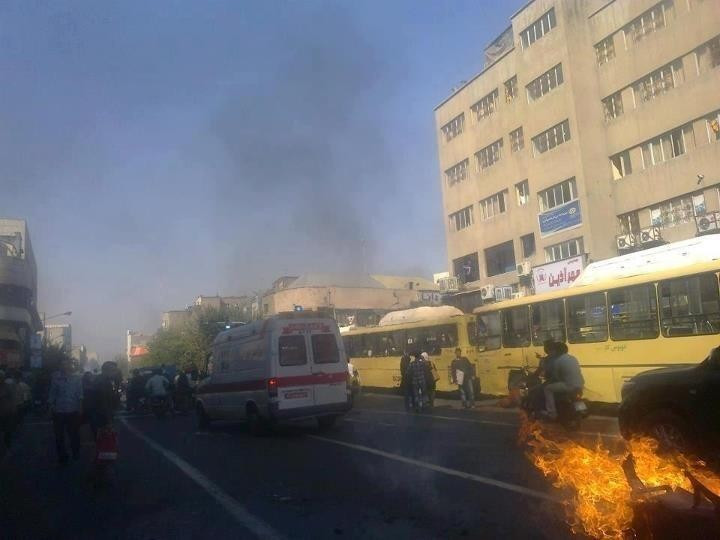 Demonstrators have scuffled with riot police in Tehran as the Iranian government struggles to contain the collapse of the rial.
The rial's value has plunged to a record low, losing a third of its value against the US dollar, mainly as a consequence of the Western economic sanctions over Iran's nuclear development programme, say analysts.
Anxious consumers have reportedly attacked money exchange shops in desperate bids to get their hands on hard currency, causing the rial to sink even deeper.
Authorities responded by shutting down Tehran's main bazaar for "security reasons" in an effort to crack down on illegal money changers, according to the semi-official news agency Mehr, but witnesses said that sparked anger and led to protests.
Bazaar official Ahmad Karimi Isfahani denied that a protest was taking place, Mehr reported.
Other local reports said the bazaar was closed because traders had gone on strike over President Mahmoud Ahmadinejad's economic policies. They said the government has fuelled the economic crisis.
Eyewitnesses told the BBC that hundreds of people demonstrated outside the central bank, demanding that the governor stands down.
A shopkeeper told Reuters that business was made extremely difficult by the instability of the rial, as it prevented merchants from quoting accurate prices.
Videos showing large demonstrations taking place on Tehran streets were posted on YouTube but their authenticity could not be verified.
Protesters clashed with riot police who fired teargas, Reuters reported.
The rial traded at an all-time low of 37,500 against the US dollar on Tuesday, extending a one-week decline that had slashed more than a third of the currency's value as US-led sanctions bit deep into the $480bn economy.
All of the exchange shops are reportedly closed today.