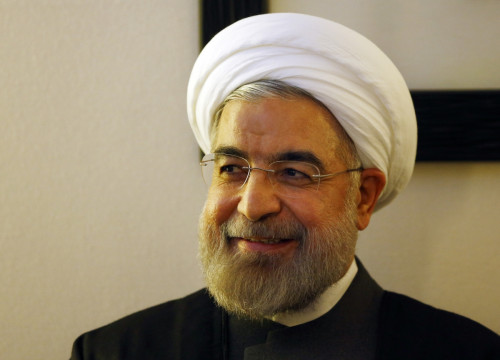 Iran is marking the 35th anniversary of its Revolution Day with by test-firing new ballistic missiles and demonstrating newly inaugurated centrifuges to maximise uranium enrichment.
The new generation of centrifuges will be at least 15 times more powerful in enriching uranium to its purer levels, said Iran's atomic chief.
"We unveiled a new generation of centrifuges that surprised the Westerners ... This new machine is 15 times more powerful than the previous generation," said Ali Akbar Salehi, according to the state-run Iribnews.ir website.
"We successfully argued that this was allowed within the research and development article in the agreement."
He insisted that the latest addition does not violate the recent nuclear agreement signed by Iran and the world powers. Iran is currently believed to possess about 19,000 centrifuges.
Salehi, however, did not say when the new centrifuges would be operational.
Meanwhile, on the eve of Revolution Day, which marks the overthrow of the Pahlavi dynasty and installation of Ayatollah Ruhollah Khomeini, Iran also test-fired a long-range ballistic surface-to-surface missile equipped with radar-evading capabilities.
"The new generation of long-range ground-to-ground ballistic missile with a fragmentation warhead and the laser-guided air-to-surface and surface-to-surface missile dubbed Bina [meaning Insightful] have been successfully test-fired," said Brigadier General Hossein Dehqan during a ceremony to commemorate the occasion.
"The Bina missile is capable of striking important targets such as bridges, tanks and enemy command centres with great precision."
Iran is scheduled to hold the next round of nuclear talks with the six major powers – the US, Britain, France, China, Russia and Germany – in Vienna from 18 February.
"Iran is prepared to enter negotiations with the P5+1 [group of world powers] to reach a comprehensive and final agreement," Iranian President Hassan Rohani said in a televised address on the Revolution Day.
The country has, however, ruled out bringing any of its missile programmes to the table for discussions during the talks.