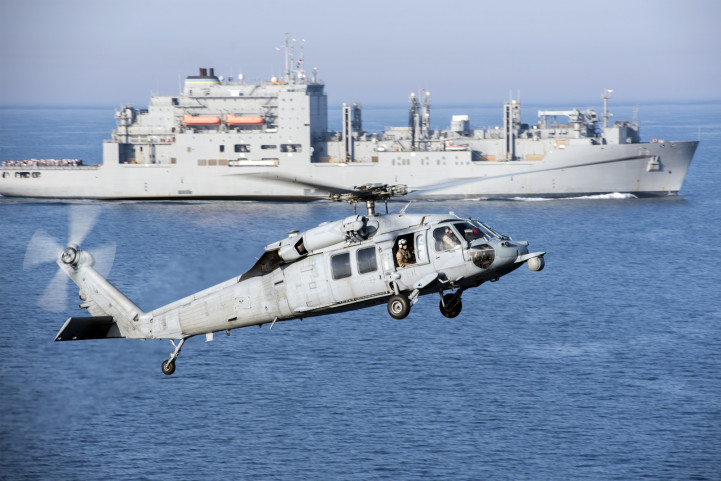 An Iranian Revolutionary Guard navy boat aimed its gun at a passing US military helicopter in the strait of Hormuz on Saturday (26 November), two US defence officials told NBC News on Monday.
The incident occurred when a USS Eisenhower MH-60 Seahawk helicopter flew within half a mile of two Iranian vessels in international waters, the officials said speaking on the condition of anonymity. The two sides did not fire their weapons at the time of the incident, not even warning shots, authorities said. The Iranian navy reportedly did not respond when the US navy tried to communicate with them.
"The behavior by our standards is provocative and could be seen as an escalation," the officials said.
"The air crew didn't necessarily feel threatened but it was unsafe and unprofessional," a US official in the region said.
According to NBC, the Eisenhower has been a part of the Gulf flying missions for Operations Inherent Resolve in Syria and Iraq.
Iranian navy vessels and US military aircraft had similar encounters previously, the report added. In August, USS Squall, a US navy boat, fired many warning shots near an Iranian fast boat when it came very close.
During a campaign rally in Florida in September, President-elect Donald Trump had said that once he was in the Oval Office, such actions would be met with severely.
"With Iran, when they circle our beautiful destroyers with their little boats and they make gestures at our people, that they shouldn't be allowed to make, they will be shot out of the water," he said.
The Trump transition team did not respond to a request for comments, Reuters reported.