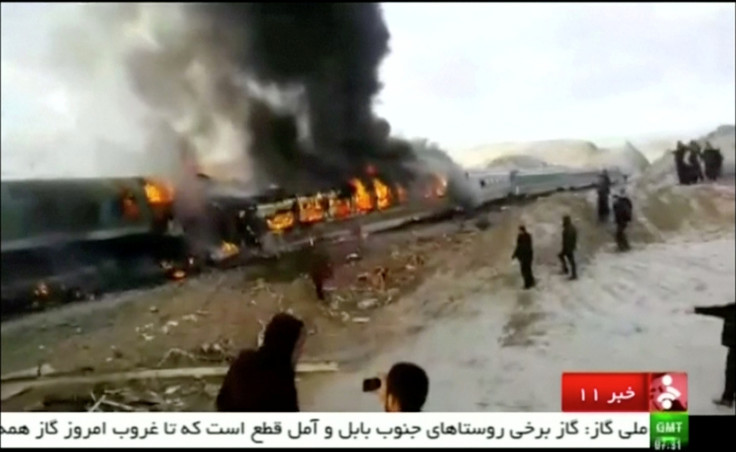 Iranian prosecutors have arrested three railway officials in connection with a fatal collision between two trains which left 44 dead and more than 100 injured, say reports. On Friday, 25 November, the two trains collided, with one catching fire, in the rural northern province of Semnan in one of the country's worst train disasters.
The crash happened on the main line between the capital, Tehran, and Iran's second city Mashhad, in the east of the country. The crash is believed to have occurred when a passenger train was forced to stop due to a mechanical failure in sub-zero temperatures between the towns of Semnan and Damghan.
It has been reported that a second train was allowed to continue travelling on the line after a shift change, leading to them striking each other and causing both to derail and several cars to become engulfed in fire.
Neighbouring Azerbaijan's APA news agency cited an Iranian rail official in reporting that investigators suspect the incident was the fault of a train dispatcher.
Now Iran's official IRNA news agency reported that three officials have been arrested.
"During the investigation, three people in charge of the northeast train control centre based in the city of Shahroud… were arrested," provincial prosecutor general Heydar Asiabi said.
On Saturday Iran's supreme leader Ayatollah Ali Khamenei offered his condolences for the "painful incident" whilst the country's president Hassan Rouhani ordered an investigation of the deadly crash in order to prevent of any recurrence of such incidents.
The report also acknowledges a malfunction in the braking system that lead to the crash, which took place near the Haft-Khan station in the city of Shahroud, about 400km east of Tehran. The isolated location of the crash has hampered Red Crescent doctors who assisted the injured.
It was not immediately clear how many people were on one of the trains, making it difficult for officials to know how many are still unaccounted for. The death toll could well be higher as officials do not know how many passengers were travelling on one of the trains.
Eighty of the injured were transferred to nearby hospitals and an estimated 20 were treated at the scene, IRNA said.