A fleet of Iranian military boats attempted to block three Royal Navy ships and a US frigate in an "unsafe and unprofessional" approach, said a US official.
Multiple fast-attack vessels from the Iranian Revolutionary Guard Corps Navy (IRGCN) boats came within 600 yards of the USNS Invincible on Saturday (4 March), with three Royal Navy ships also being forced to change their course, the official said.
The incident is reported to have taken place in the Strait of Hormuz, which sits between the Gulf of Oman and the Persian Gulf, according to an unnamed US official.
The Iranian fleet forced the formation to change course on Saturday 4 March, report Reuters.
The US official added that attempts were made to communicate to the Iranian ships over radio, but there was no response.
In a similar incident just two days before, CBS News reported that the US Navy surveillance ship had an even closer encounter with an Iranian navy frigate in the same area.
The ship came within 150 yards of the USNS Invincible on Thursday (2 March) in the Gulf of Oman. The incident was deemed as "unprofessional" but not unsafe because the ships were on a parallel course at the point of closest approach.
The Strait of Hormuz is strategically important due to the amount of oil which passes through its waters.
Stand-offs have become commonplace between US ships and Iranian vessels in the past year with the most serious incident occurring in January when a US Navy destroyer fired warning shots at four fast-attack Iranian patrol boats which came within 800m of their ship.
Then on 26 February Iranian state media said they held naval drills including ships, submarines and helicopters across a 2m sq km area near the strait.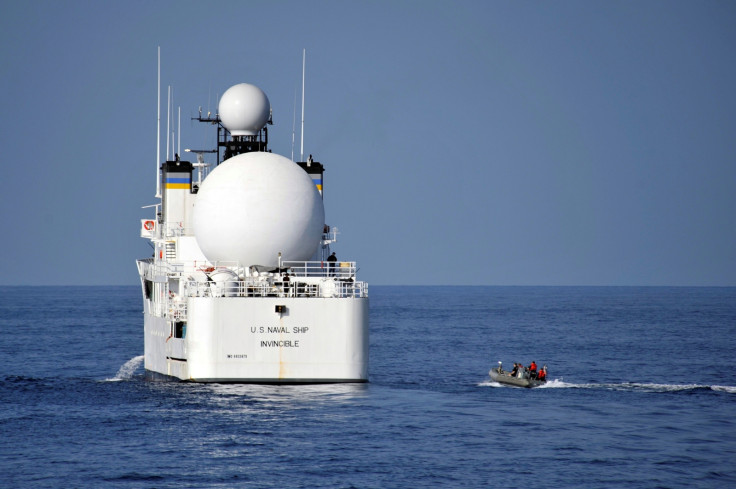 In November 2016 it was reported that an IRGCN navy boat aimed its gun at a passing USS Eisenhower MH-60 Seahawk helicopter, after it flew within half a mile of two Iranian vessels in international waters.
In the run up to his election last year bombastic US President Donald Trump vowed that Iranian ships which attempted to intimidate the US Navy would be "shot out the water" under his leadership.