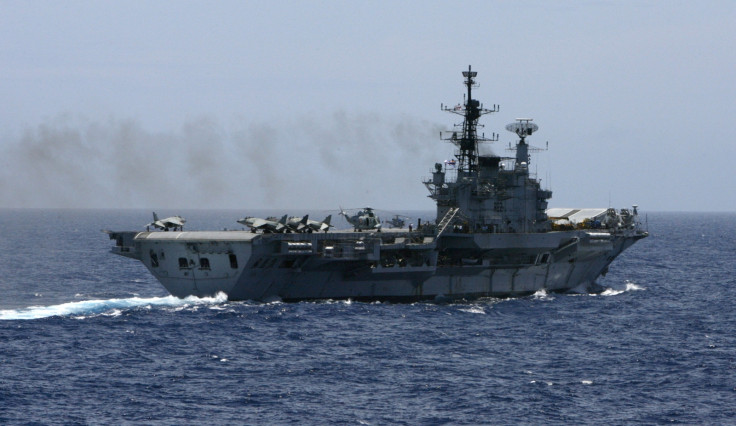 The world's oldest serving aircraft carrier, INS Viraat, is being decommissioned by the Indian Navy as the vessel wraps up its 56-year-long voyage. The British-built warship, fondly known as the "Grand Old Lady", will be given a ceremonial send-off in Mumbai.
The ceremony will be attended by India's chief of naval staff S Lamba and the Royal Navy's 1st Sea Lord Admiral Sir Phillip Jones. Defence Minister Manohar Parrikar and other top dignitaries would also take part in the event.
At sunset on Monday (6 March), the naval flag installed on the vessel would be lowered and wrapped up. Twenty-one of the former 22 commanders of the ship will be present on the occasion.
While serving the navies of India and the UK, INS Viraat sailed about 1.1 million kilometres, equivalent to going around the globe 27 times. If there are no buyers for the ship in four months, it is likely to head to the scrap yard to be broken up, said the navy.
The ship was under the Indian Navy for nearly 30 years after it was used by the Royal Navy for 27 years operating under the name HMS Hermes. INS Viraat spent more than 2,250 days, or roughly six years at sea. Various aircraft have clocked over 22,000 flying hours from its decks.
Efforts have been made to convert the vessel into a luxury hotel or turn it into a diver's spot so as to attract tourism. The Andhra Pradesh government in south India is also keen to acquire the historic vessel.
"One proposal could be that we convert her into a marine museum by taking her to one of our major tourist harbours and sink her in the water and make her into a dive site... where some aircraft carriers have been put to rest also... and she would be there as a legacy," naval chief Lamba told the Indian broadcaster NDTV shortly ahead of the ceremony.