Iraq: Fugitive VP Gets Death Sentence as Blasts Leave 100 Dead [VIDEO]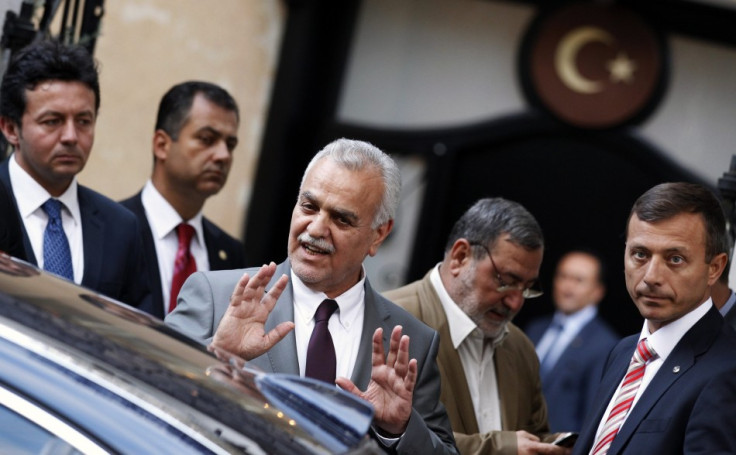 Iraq's fugitive vice-president Tariq al-Hashemi has been given the death sentence in absentia, on the day that a series of explosions across the country claimed more than 100 lives.
Hashemi, the senior-most Sunni political figure in Shiite-ruled Iraq, was found guilty of running death squads during the country's civil war, which erupted after the invasion by coalition forces in 2003.
His son-in-law, Ahmed Qahtan, was himself found guilty of murder, and will also receive the death penalty.
Hashemi refused to appear in court, saying the charges against him were politically motivated. He has been living in exile in Turkey since December 2011, when his primary political opponent, Shiite Prime Minister Nuri al-Malik, issued a warrant for his arrest.
It is reported that Turkey has been delaying Hashemi's deportation to Iraq, and its refusal to co-operate with the Iraqi government could hold up his execution.
The arrest warrant against Hashemi plunged Shiite-Sunni relations into turmoil, and his sentence has triggered fresh anger across the Sunni community, many of whom believe the execution is politically motivated.
While Sunni militants, backed by al-Qaida, have been blamed for much of the violence in Iraq, Shiite politicians have been accused by their Sunni counterparts of ignoring the power-sharing.
Blasts across the country
Within hours of Hashemi's sentencing more than 20 explosions ripped through Iraq, killing more than 100 people and wounding at least 300.
Bombs were detonated in 11 cities across the country including Basra, Kirkuk and capital Baghdad, were more than 50 people died in a busy commercial district. Just a few miles north of the capital, a co-ordinated gun and bomb attack left 11 soldiers dead at a key security post.
Most of the attacks took place in the Shiite-dominated regions. However the explosions are believed to be unrelated to the specific sentencing of Hashemi and his son-in-law.
"I heard women screaming, I saw people running in all directions, chairs scattered in the street. My windows were blown out, my mother and two kids were injured too," one of the injured victims, Alla Majid, told Reuters.
"I strongly condemn the heinous attacks and the senseless violence that, once again, have claimed dozens of lives," said the UN's special representative for Iraq, Martin Kobler.
© Copyright IBTimes 2023. All rights reserved.